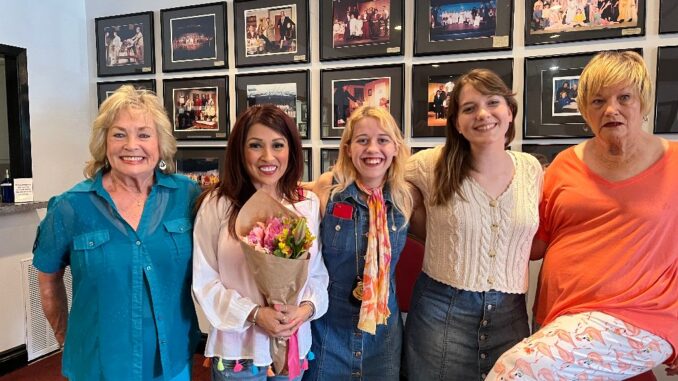 What do five women do when they get together for a birthday? If this play is any indication, they drink a lot and whine (pun) even more.
Birthday Club is currently being staged by the Hill Country Community Theatre (HCCT), near Marble Falls. Birthday Club was a finalist in seven playwriting competitions, including the Austin Film Festival Stage Play Competition. It was written by Phil Olson, who has written some 20 plays. Birthday Club is his latest: it premiered on stage last year, in Orangeville, Illinois.
If this were a play about men, the setting would be a bar. For the men, the bartender is the leader of the group. The dynamics overall resemble a group of guys bonding over a beer at the bar. In the play, we have women bonding over glasses of wine (and maybe vodka), in the living room of a house: the setting is Destin, a small town in Florida's panhandle.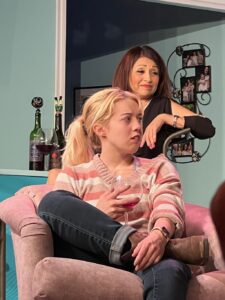 Olson hails from Minnesota, the same place the character Rose (Betty White) of The Golden Girls came from. This is reflected in the character Sarah in this play, a naïve young woman who spouts the same sort of delightful nonsense that Rose did in the TV series.  Sarah is a member of a religious order, similar to a cult, with restrictions about as severe as the Amish. Which leads to one of the funniest jokes in the play. Once Sarah loosens up a bit, she asks "Do you know how to please an Amish woman? Two Mennonites!"
The Golden Girls actually features in the play directly, as Sarah informs her friends that she is looking forward to her marriage. It is the only night her cult allows her to watch TV, and she wants to watch The Golden Girls on her wedding night!
Sarah is the new inductee into the Birthday Club. It has four members: Abbie (played by Bebe Marina Rocha), Emily (Sharon Penny), Kathy (Ocean Leigh) and the host Cheryl (Sally Stemac). It was founded by a now-deceased member, Jennifer, whose spirit lives on here.
Cheryl sets the tone when she warns the others "Do not use logic on me!" Indeed, logic is the furthest thing from the minds of these five women. One woman I spoke to said the basic idea here reminded her of another play, Dixie Swim Club, and at least one line from that play also appears in Birthday Club. She said this play "wasn't all that bad, but wasn't that good either. The premise of the play wasn't realistic. I don't know any group of ladies who get together and treat each other like this." She found the talk funny, but degrading.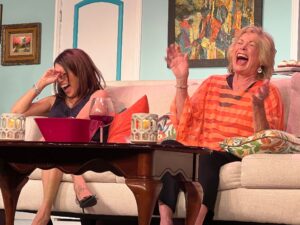 In the photo you see Rocha and Penny in fits of laughter, which was quite genuine. Want to know what joke stopped the show? Emily, on the right, said she had stopped dating a guy who apparently wasn't too bright. "He had to get naked to count to 21"!!
Yes, there is lots of hilarity here, mixed with serious stuff too. Acting is delightful, from the no-class Kathy at one end of the spectrum to Abbie, who exudes class even though she is reduced to dating a homeless guy that Emily feeds at the shelter! "He doesn't own a ranch," says Emily, "but he does own a pack of ranch dressing!"
All five turn out to be both fragile and strong. Much of their strength derives from the heroic battle Jennifer fought with the cancer that killed her. "She had the strongest spirit," says Emily. Cheryl possesses just the right level of slightly inebriated gravitas to hold it all together.
I found it quite delightful, with just enough dynamic flow to keep things moving along. A good reason to get out of Austin for a while! As usual, HCCT puts on a really good show.
Birthday Club is playing thru May 13, 2022.   www.thehcct.org
Lead Photo: (L to R): Sharon Penny, Bebe Rocha, Ocean Leigh, Brigid Cooley, Sally Stemac. Copyright SunNewsAustin.com