An inspired choice of rarely-heard musical numbers made the holiday outing of Houston's gay and lesbian chorus a delight. It was held at historic Lambert Hall, built in 1927.
In an interview for OutSmart magazine, Artistic Director Matthew Jones explained the guiding principles of this performance. "What I had in mind when I was putting this concert together is that Pride Chorus Houston is a place where the chorus and our audience members can feel included, can feel community, can feel love, and can feel celebration, regardless of what else might be going on."
Pride Chorus Houston began as the Montrose Singers in 1979, which later expanded into separate male and female choruses. In 2019, these two groups were merged and rebranded as Pride Chorus Houston, which now has about 45 singers including nine women.
Selections included a few old standards such as the silly pop song I Want a Hippopotamus for Christmas and Joy to the World, but it was the selection of music I have never heard before that transformed what could have been a 'traditional gay' concert into a true Christmas present to all who attended.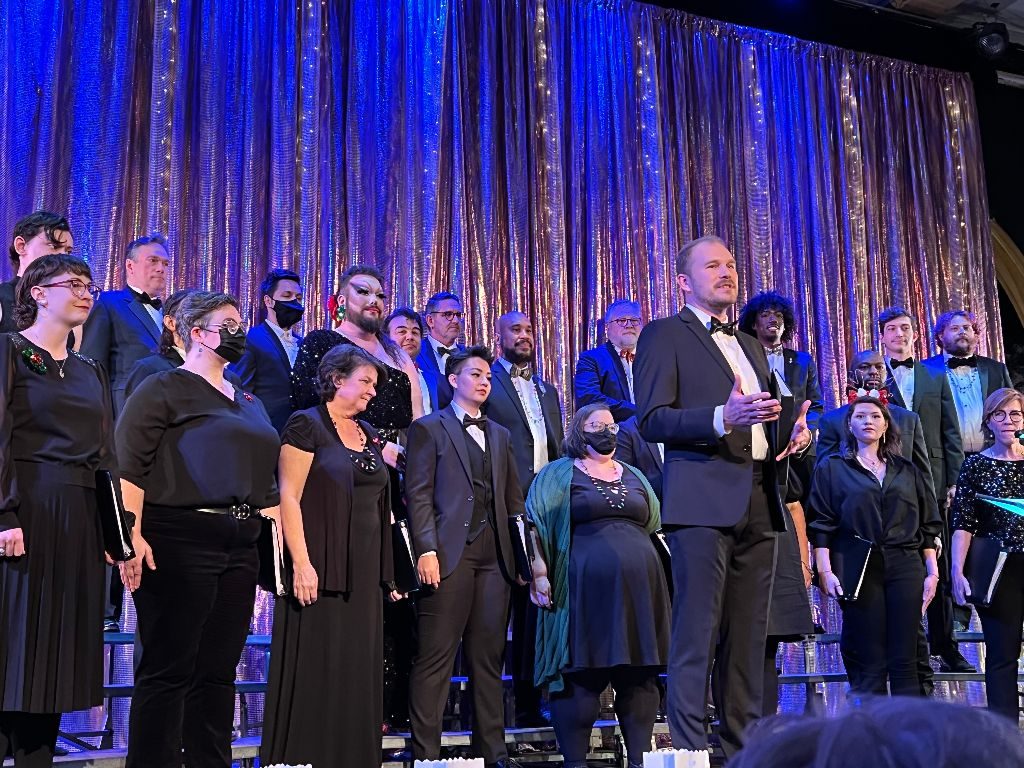 Contemporary songwriters Ben Glover and Francesca Battistelli remind us of the joy found in the holiday season in their composition Heaven Everywhere. "It's Christmas time, there's something in the air. There's a little bit of heaven everywhere," so the lyrics run. It is a gently soothing piece, beautifully done by the chorus.
Stars I Shall Find by Ruth Morris Gray (Chair of the Performing Arts Department at Rosemead High School in Rosemead, CA) is an artful setting of a Sara Teasdale poem.  Performed by the Bayou City Women's Chorus, as this subset of Pride Chorus Houston is known, it served as a showcase for their choral sonorities. Stars in the sky are represented by the high notes, but these were not the only stars in the show.
A moving prologue was read to herald the Solstice Song, composed by Jan Garrett in 2014. For many, it stated, Christmas "can be a time of complicated emotion." Nearly coinciding with the Winter solstice and the longest nights of the year, "We are plunged into the darkness where stars are born. May you have many clear days and dark nights to feel the glow of stars in the winter to come." The lyrics themselves bid us "to sing the song of a billion stars silently all thru the night." A marvellous tune, and one that follows in a tradition by the Houston chorus in offering a song that grounds us in the season. There was no live concert in 2020, but they sung such a song in 2019.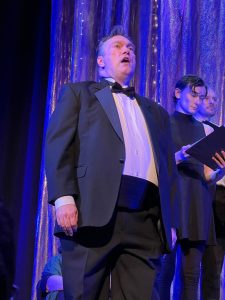 A star of a different order is David Gebo, the longest-serving member of the choir, having been part of it for 29 years. He was the featured soloist on Am I Welcome Here? by Eric Lane Barnes. This piece has appeared but rarely in gay choruses, going back at least as far as 2002 when the Cincinnati Men's Chorus recorded it, but it should become a staple. With its subject matter being 'a baby born in Bethlehem', it was sung with commanding presence by Gebo. Another great tune.
The chorus was most effective when they ditched the written music, freeing up their hands to be more expressive. Perhaps because the number of singers is only half of what it was, there was a lack of resonance, or depth, to some songs, but having female voices in the chorus added to its harmony.
Overall, an uplifting concert that unfortunately was only performed once, on Dec. 11, 2021. Check out their website for future events: www.pridechorus.org.
Photos by C. Cunningham