Don we now our gay apparel. Well, there were a few guys at the Austin Gay Men's Chorus Christmas concert who were wearing gay apparel, but most looked like they just left the bar. Just because the Lutheran Church where the concert was held makes you wear masks guys, doesn't mean fashion has gone out of style! I'm talking about the audience, not the chorus, who were very nicely dressed.
Anyway, the lyrics derive from the 1862 song Deck the Hall, which was sung at the concert here in Austin on Dec. 5. Back when Thomas Oliphant wrote it, the word gay apparel simply meant bright coloured, festive clothing. Little did he know his tune would become an iconic song for men.
The most unique song of the set was Twelve Days of Quarantine Christmas. You may have seen this on YouTube, but this version has a gay-themed list. It is worth sharing here: A diva spilling the tea, Two protective masks, Three delivered meals, Four shows to binge, five quarantined queens, six Feet away!, seven zoom meetings, eight DIY stylings, Nine apps still playing, Ten pounds a-gaining, Eleven months no dating, twelve packages waiting. I will leave it up to the reader to decide which of these is the most terrifying, but I think number 5 is hard to beat.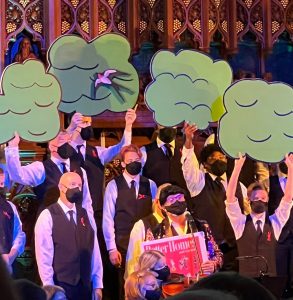 Since all the singers wore black masks, the delightful voices of the chorus was diminished, and exactly who was singing solos was not always obvious. There was on hand an interpreter for the deaf, but I noted when the instrumentals (such as We Three Kings) were played, the interpreter was signing the unheard lyrics, not the music.
Several numbers were performed by a subset of the large chorus; the Carol of the Bells was very effective with just a dozen singers. Throughout the concert the key changes were handled well.
The first half of the concert was very subdued; one guy told me he had to nudge his partner awake. It featured Jewish and African music I can't comment on, but the zippy rendition of Feliz Navidad by Jose Feliciano was a highlight.
The second half featured an excellent duet on It's Beginning to Look a lot like Christmas, and O Holy Night was also a standout with its soloist. Let It Snow was enhanced by the wearing of red scarves and a short comedy routine enlivened the atmosphere. One guy said he makes a drink for the holidays called Home Alone: after one drink you forget you have kids! A curious joke a gay audience, but still funny.
Austin Gay Men's Chorus should be commended for getting its act together after a nearly 2-year in-person shutdown due to the virus. We look forward to more concerts in 2022, under the energetic direction of artistic director Dr. Daniel Arredondo. Go to the donate button on their website to support this group: www.austingaymenschorus.org