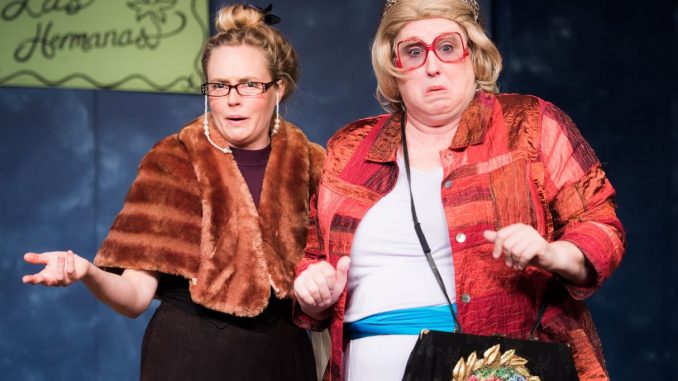 If you liked Helen Reddy you will really enjoy Parallel Lives. If you don't know who Helen Reddy is, you probably won't appreciate most of the comedy in this play from 1986, currently being staged by City Theatre Austin.
Even in its early years, the play was subject to pertinent criticism. Referring to the playwrights Kathy Najimy and Maureen (Mo) Gaffney, a 1987 review wished "they would trust their characters to speak for themselves, instead of using them as moral mouthpieces." The passage of three decades has only served to bring that analysis into even sharper focus as the 'shocking' gender issues of that era are now accepted norms.
The two playwrights themselves appeared as the actors in an HBO television version in 1991 known as the Kathy and Mo Show. I have not seen it, but I spoke with one woman in the audience who had. At intermission she said that she was particularly looking forward to the 'bar room' skit (the play consists of a series of skits), which was her favourite from the TV show. Afterwards she expressed a bit of disappointment that the stage version was not as hilarious. Personally I found the repetitious dialogue from a married 'man' trying to propose marriage to a woman in a bar to be tedious.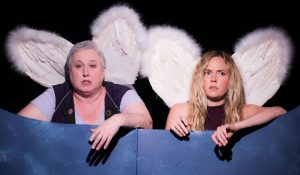 I put 'man' in quotes as only two women perform this play, but gender roles switch in different skits. Roxy Becker gets to play more than one male role, while the more petite Helyn Rain Messenger gets to play several empty-headed ditz and do-gooder roles (she gets to deliver such lines as "smile and the whole world sleeps with you!). Both actresses deliver powerful and multi-faceted performances with perfect timing and believability. No mean feat, since they have to assume so many different guises and costumes.
The play begins very effectively with two angels musing about how humans should be constructed as the time of Creation. Quite hilarious, especially when they briefly return in the second act to muse of what has happened in the intervening thousands of years. They both regret giving males an ego!
I won't rehearse the subject matter of all the skits, except to say they were certainly innovative in the 80s, but we naturally have a blasé attitude to such hot button topics as gay men living with one another. I just saw a gay man in downtown Austin pushing a baby carriage, and yes it is his! What would they have thought of that in 1986?
Parallel Lives lets one rediscover things we've known all along. It has lots of energy and good flow, but would improve with the deletion of a couple of skits that makes it too long at 2 1/2 hrs. If you are over 50 and looking for a good throwback to memories, this is a great vehicle to get there. I did notice a reference to the Internet in the dialogue, so there has been some update (spoiler alert for those under 30: the Internet has not always existed, and was certainly not around in the 80s). But if references in the play to Jane Fonda and the song Honesty by Billy Joel leave you checking Wikipedia at intermission for some insight, this might engender (pun intended) a bit of uncertainty. This is no fault of the actors, who do their best with comedic rapiers that are just a bit rusty.
Parallel Lives is being performed till June 15, 2019 at the Trinity Street Theatre in downtown Austin at 901 Trinity Street. Photo credit: Aleks Ortynski.