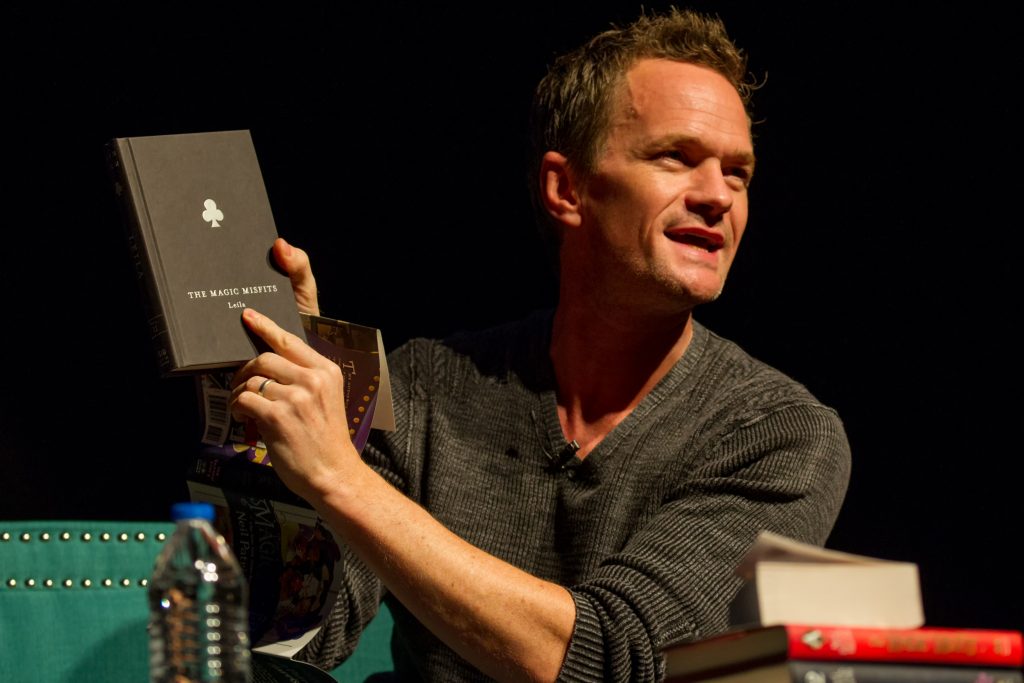 The Magic Misfits is the title of a 4-book series by the entertainer Neil Patrick Harris. To celebrate the publication of the second book in the series, he appeared at the Long Centre in Austin on Sept. 26.
Harris reminisced about his early days living in Ruidoso, New Mexico, a place he described as "really great. We lived in a pine forest and I often went to the Aspen Tree bookstore, owned by a lady who also played the organ in our Episcopal church. She taught me the love of books."
In the bookstore Harris said he "found an appreciation for the tactile nature of a book," while at home his Mother read to him every night. He became a fan of Roald Dahl, especially his book Bridge to Terabithia about children who create a magic forest. His Mother avoided reading the sad passage to him for days, always coming up with excuses, but they finally got through it. He started learning magic tricks at an early age. "The more you do magic," he said, "the more you appreciate the history of magic." He is expressing this major factor in his life in a book series for middle-grade kids.
"There are four books because there are four suits in a deck," he explained. Each book has either a heart, club, diamond or spade on the cover, but you have to take the dust jacket off to see it! The books contain several hidden things, including codes. "They are not incredibly difficult codes to solve that leads to gold bullion. One kid asked why they are so stupidly easy!"
He wanted to respond "Get out of here Doogie Howser!" referring to a kid's character he played on TV from 1989-1993. "As much as I enjoyed 4 years of Doogie Howser, I didn't have the ability to have perspective on it. It was 3 hours a day of school and 9 hours on the set every day. It was fun but unique."
In writing these books (the third is complete and will be published soon) Harris is providing a template for kids to discover that magic can be good. "I don't feel I'm in a capacity to teach or preach. I'm conscious of creating a world without defining it; I don't talk about what year it is, for example. The best lessons are learned through observation and representation."
Harris is looking forward to celebrating the most important day of the year with his children. "I'm very uniquely excited about family Halloween this year. I love Halloween- it's my favourite, it's the coolest!" And since it is my birthday, I agree completely!
The Magic Misfits: The Second Story is available in hardcover for $16.99. Published by Little, Brown & Co.
Photo: Neil Patrick Harris shows off the "Clubs" cover of his new book at the Long Center in Austin.
Photo with this article courtesy of Lana Husband, who retains the copyright to the image.