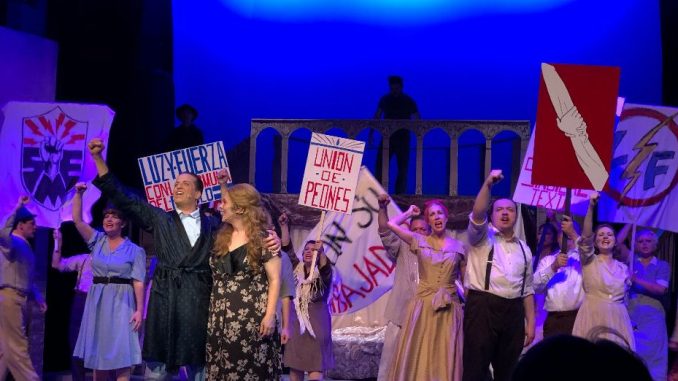 It is hard to believe it's been 41 years since the musical Evita hit the stage. That was in London, with Broadway quickly following in 1979, and the equally iconic movie starring Madonna in 1996. In retrospect it was just one of Andrew Webber's hits, and not even the biggest (that would be Phantom of the Opera).
Evita is currently being performed at the Georgetown Palace, and while the cast cannot boast of superstars such as Antonio Banderas in the role of Juan Peron, or Madonna as Evita, they do the old warhorse proud on a relatively small stage.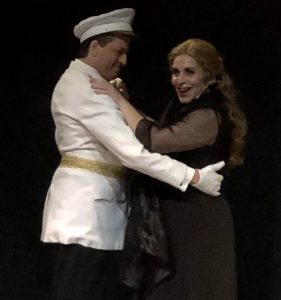 Michelle Haché as Evita has an excellent voice and certainly got the most exhausting part in play. While her persona was more matronly than glamorous, as the real Evita was, Haché does a creditable job in a very demanding role. Jim Lindsay fits the role of her husband Juan Peron perfectly, which helps to compensate for the spark of charisma that is lacking in Haché. As a duo they are entrancing and effective.
As the play progresses we can see the dichotomy in Evita's life in stark terms. From a woman who slept her way to the top as Argentina's first lady, Eva Peron was officially declared the Spiritual Leader of the Nation shortly before she died in 1952. The play begins with her funeral, so there are no spoilers for those who have not seen the musical, which features the ultra famous song Don't Cry For Me Argentina.
A member of the public, in the guise of Ernesto "Che" Guevera (sung by the excellent tenor Steve Williams), guides the audience through the life of Evita. He serves as an antidote to the adulation showered on Eva Peron as she became First Lady. An unseen personage also throws cold water on her fame: the King of England, who famously refused to receive her during a 1947 tour of Europe. "If England can do without Argentina," declares Evita in the play, "Argentina can do without England." The snub led to Argentina's first claim on the Falkland Islands, which culminated in the 1980s when Argentina was soundly defeated in a war with England as it attempted to conquer the islands.
While the play is a musical, theatre goers would be well advised to learn something from its political aspects, which relates its own moral tale that transcends the notoriety of Evita.
Both set and costume design are exceptional. The rotating set makes maximum use of the limited space without delays for changing the set, and the costumes, which range from military uniforms to the high fashion of ladies of the era, greatly enhance the impact of the show.
Evita (with a large ensemble cast) is being performed through July 7, 2019.
Photos by C Cunningham
Lead Photo: Jim Lindsay, with arm raised, Michelle Haché, and the cast
Second photo: Jim Lindsay and Michelle Haché