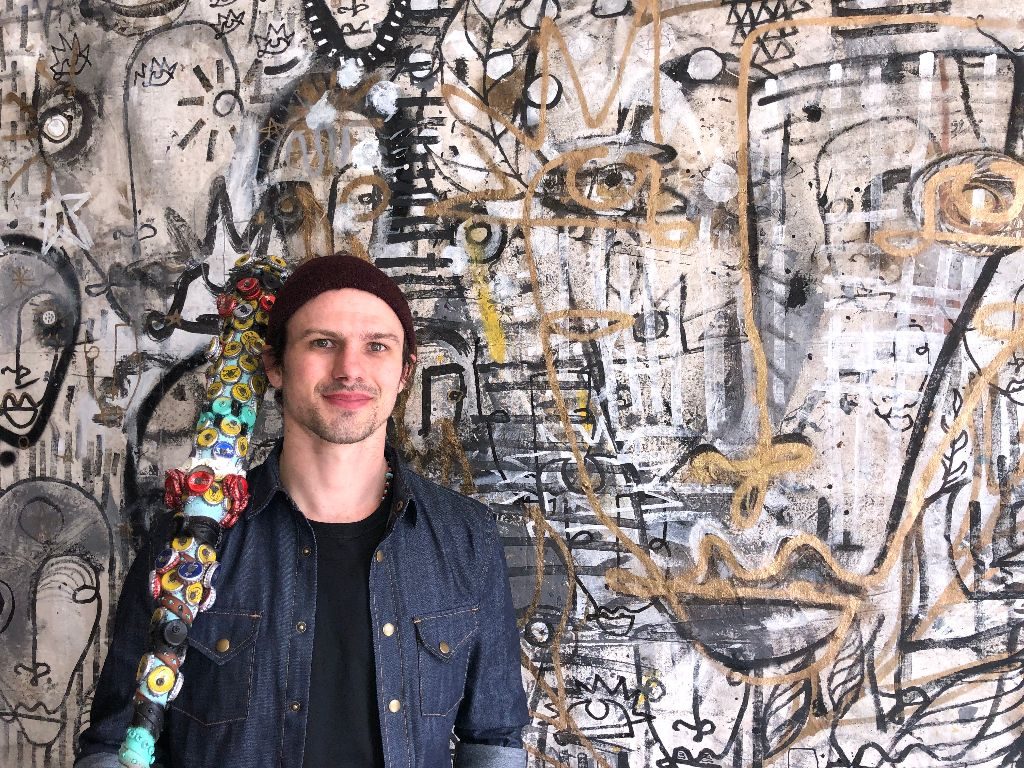 "Art is cool because we get to tell the truth through lies."
When R.C. Hagans was three, he found a sharpie and scribbled around all four walls of his house. "She scolded me and I was grounded," he said, but the artistic urge could not be stopped, even at church.
"My father was a minister. For every service I attended for 10 years I made 20 pencil drawings and tucked them into the hymnals. Some may still be there."
The work of Hagans, who resides in Alabama, can now be enjoyed right here in Austin, where the clothing store Billy Reid has devoted their annex to his art. He is shown here holding a sceptre in front of a large work.
"Art is how I communicate," Hagans explained in an interview for Sun News. "I'm not a machine but I'm something to create art. I do it when I'm happy, sad or bored. You are what you do the most."
One great influence on his career was the visual artist William Mortensen, who died in 1965. His life and work was covered in a 2014 book entitled American Grotesque. His art, said Hagans, "has layers to it, things people haven't seen. He was tapping into something. As Bob Dylan said there are sad songs out there. Mortensen shows us things beyond what you are told to pay attention to. I like to find something new and see where the wormhole takes me. I think art can have psychedelic or spiritual properties. It can linger with a person long after the viewing and change them at the core."
Hagans said he found inspiration in Mortensen's image of a Tantric sage. "I try to live a life of inspiration. People use lack of inspiration as an excuse to not work." Another important figure in his life is the Roman Emperor Marcus Aurelius. "His art of life helped me not to wallow in self pity and focus instead on improving myself." A key element in doing that for Hagans is martial arts. "I would not be the person I am if not for wrestling. It helps you know yourself and other people."
His relationship with Billy Reid goes back 7 years, to the flagship store in Florence, Alabama. He was asked to do an installation, so he painted a big mural, 17 feet high and 40 feet wide. By employing cut paper he had already created, the mural was complete in 2 days. "A commission to do that would take me over a year to do." Since then he has exhibited at Billy Reid stores in Charleston, New York, and now Austin.
His art, ranging from depictions of ancient barbarians to astronaut space suits, will be on display at the Billy Reid store (1211 W 6th Street) for the next few weeks. Highly recommended for the art, and a great place to buy fine designer clothes too.
Photo of Mr. Hagans by C. Cunningham