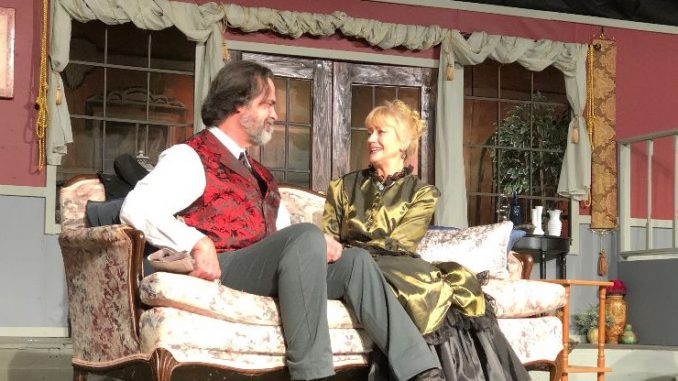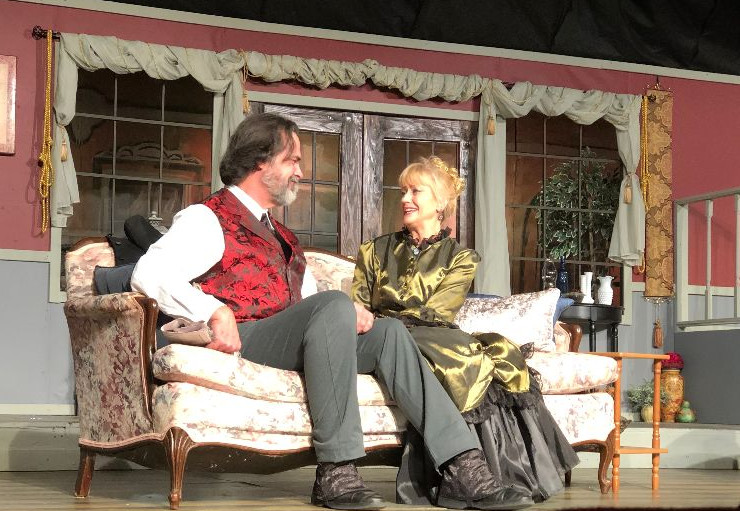 Is Trump gaslighting America? Many people think so. Using language to imply things that are not exactly stated seems to be hallmark of the current presidency. And what has been happening of late is certainly driving a large proportion of the population nuts. That is the definition of gaslighting, but where did it come from?
We have to thank the English playwright Patrick Hamilton (1904-1962) who wrote a play entitled Gaslight in 1938 that is one of the few from that era still being performed. It was also made into a famous movie from 1941 starring Charles Boyer and Ingrid Bergman. There are two connections to Austin: Hamilton's papers reside at the Ransom Centre, University of Texas, and his play is currently being performed not far away in Leander.
An excellent stage set recreating a living room of the 1880s serves as the backdrop against which the action takes place, all in a single afternoon and evening in the home of Jack and Bella Manningham. Early on it is apparent Bella is an extremely nervous type, and her husband Jack is not helping things by his domineering attitude. Only as the play develops do we understand her nervousness is teetering on madness, but this is not hereditary as she fears. Rather she is being pushed to the precipice by Jack.
The room is lit by gaslight, and every evening when he leaves the lights dim. This can only happen if another light in the house is turned on, but none are. Bella begins to question her own reason as she hears noises in the upper storey of the house, which has been sealed. A former detective appears on the scene, revealing to her the reason for this. In essence, she is being driven nuts by her husband, who is responsible for the dimming: she is being gaslighted.
Bella is played with a perfectly pitched level of sanity and madness by Tracy Cathey, while her husband, played by Bill Craig, channels the worst of the male species with chilling aplomb. Each is an excellent foil for the other, which carries this play to a level where the audience feels invested in the terrible struggle between them. The enzyme that catalyses the reaction between them comes in the form of police seargent Rough, played with a delightful degree of self-satisfied insouciance by Roy Moore. Rounding out the cast is the naughty maid, Lisa Doughty, and the housekeeper, Shelly Kelly. Both actresses deliver stellar supporting roles.
A tale about murder and fabulous rubies, wrapped up in a psychological thriller, Gaslight is well worth the drive from downtown Austin and highly recommended to warm up a winter's night.
Gaslight is being performed until Jan. 26, 2019 by the Way Off Broadway Community Players, 11880 Hero Way West, Leander. Visit their website for tickets: www.wobcp.org
Photo by C. Cunningham