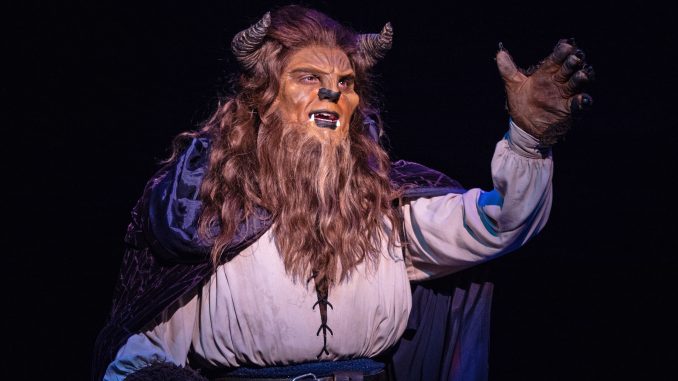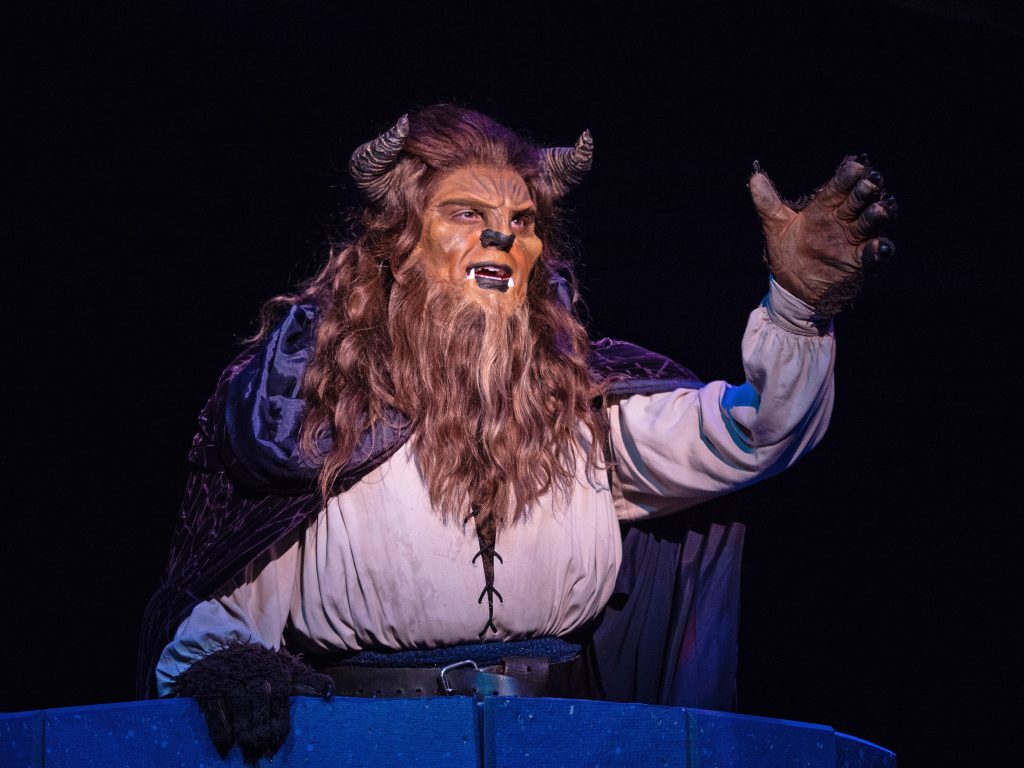 Disney's animated movie of Beauty and the Beast was transferred to the stage as a musical in 1994. Its debut on Broadway got a tepid review in the New York Times, whose reviewer said the production "has amazingly little resonance. The result is a sightseer's delight, which isn't the same thing as a theatergoer's dream."
A somewhat jaded view perhaps, but the production has certainly achieved the longevity to reach a whole new generation 24 years later. I was surprised few children were in attendance when I saw this at the Zach Theatre on July 14, although I expect the matinee shows might attract a younger crowd. This was mostly the 40-plus set, and it appeared to me they were genuinely moved by the show, which ended in rapturous applause.
The storyline itself is so familiar it hardly bears repeating, but one can gain insight into what the storyline is really all about by reading the programme notes of director Abe Reybold. He reminds us that the "natural order of falling in love reminds us just how long this particular fable has been around. Origins of this universal story go back as far as second century AD to Cupid and Psyche." He is referring to a story popularly known as The Golden Ass by Apuleius, which involves a man transformed into a donkey by magic. After many travails, he regains human form by eating roses.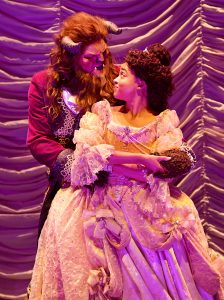 In the Disney musical, a man is magically transformed into a horned beast. He regains human form by achieving reciprocal love before the last petals on a rose fall away. The razz-ma-tazz Disney treatment does overwhelm this fundamental human resonance, but it is still there if you are tuned to its real meaning. In my opinion this works even at the subconscious level, which is why the audience seemed genuinely affected by it. It is not necessary to have the philosophical wisdom to articulate a personal engagement with Beauty and the Beast to benefit from this enchanting fantasy.
As a wonderful escape from the real world it is hard to beat. It is akin to Belle (Briana Brooks) saying of books that "they take me away to wonderful places that have happy endings." That is Beauty and the Beast, which one theatre goer told me was "beyond what I expected." He had also seen American in Paris, recently staged in Austin, and found this to be superior, citing the interactivity of cast members using the aisles as a great way to bring the audience into the action.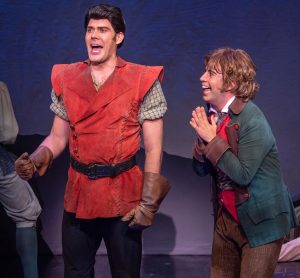 Most musicals are weighed down by tunes that are most charitably described as "not memorable," but this is not one of them. Be Our Guest, which exhibits parallels to Make Yourself At Home in the musical Oliver!, is a fan favourite. Performed with a series of enchanted objects including a kitchen grater, hourglass, plates and even the cutlery, it enjoys an effective climax that delights both the ear and eye. And of course the theme song in this musical, Disney's first Broadway venture, is now iconic.
One of the challenges of advancing the story on stage is finding the right set design. The rotating castle serves just this purpose, and works wonderfully in the Topfer, Zach Theatre's largest venue.
It is not unusual to have one strong lead. Two is unusual but three is rare. Here we have that rarity in the persons of Brooks as the eligible young lady Belle, her suitor Gaston played with a total lack of humility (suitably so) by the tall and handsome Matthew Redden, and her secret love, the Beast himself played with bellowing charm by Alexander Mendoza. Their acting and singing abilities are truly top notch.
They are supported by Martin Burke, John Christopher, Meredith McCall, Jennifer Young, June Julian, Michael Ferstenfeld, Kevin Pellicone, and some 20 others. This large cast offers a flawless and delightful performance.
"I want to see it again!" one member of the audience enthused as we walked out. I urge you to see it at least once before it ends its run in Austin on Sept. 2, 2018.
Photo credit: Kirk Tuck
For tickets: www.zachtheatre.org