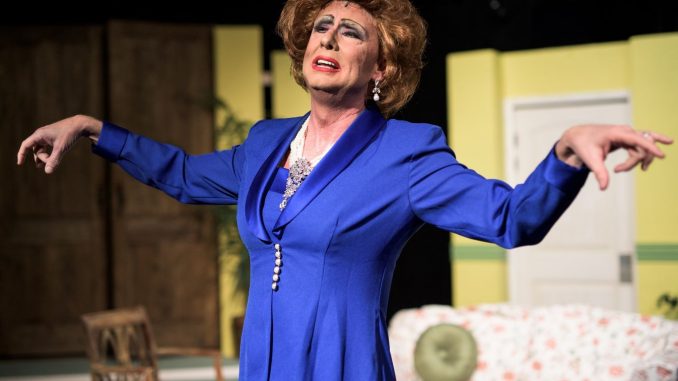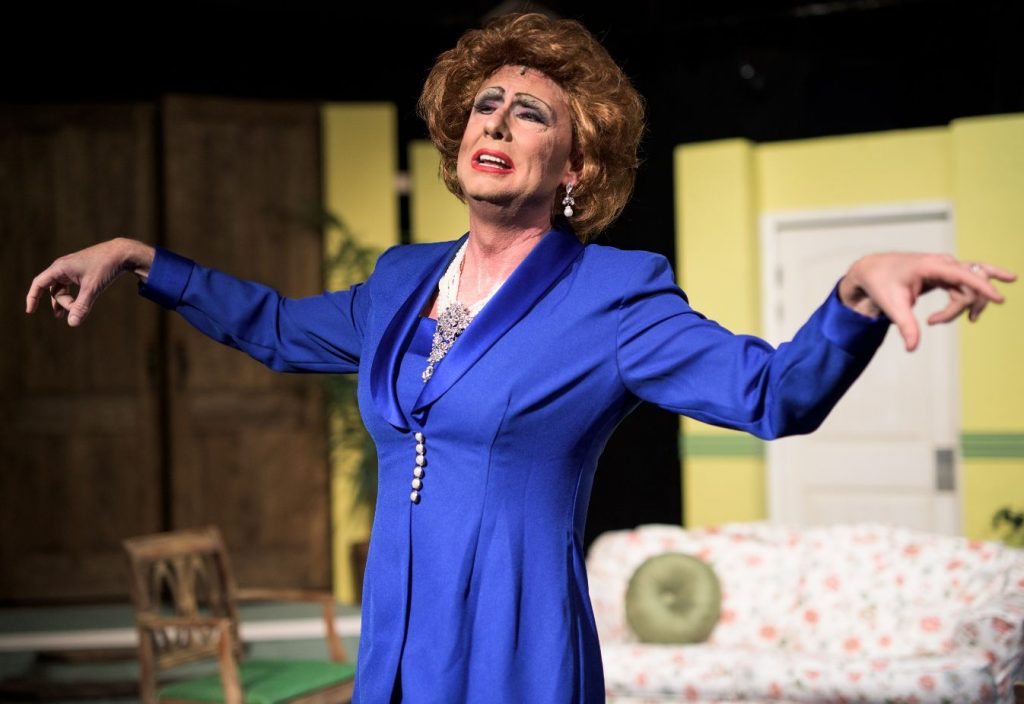 What would an aspiring young actress do to get the lead role in a play? It depends on how Ruthless you are! That is the central issue in this parody of Broadway musicals by Joel Paley. Currently playing at The City Theatre in Austin, this 1992 production is also enjoying a second life in London: its production in the West End runs until June 23, 2018.
If you like Joan Crawford or Ethel Merman, you will love this play as its lead character is an amalgam of both. In an otherwise all-female cast, the role of Sylvia St. Croix is actually cast for a drag queen, and we are lucky to have Robert Cross in the role (lead photo) to deliver a sizzling performance. For 20 years he was artistic director of the drag comedy troupe The Austin Babtist Women, and here he offers a suitably over-the-top portrayal of a sleazy talent agent. "Talent: where does it come?" she asks as the opening of Ruthless, whose first half is trite and somewhat forced.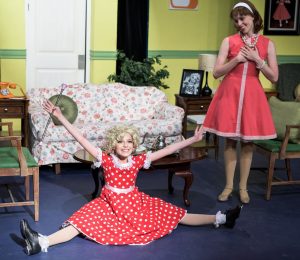 The second act is, in the words of one young member of the audience I was part of, "a million times better than the first act." This is certainly true, although I found the musical numbers in the first act to be superior. Like most musicals it does not have any truly memorable tunes. I think the playwright recognised this when he has Sylvia say "There are no lousy songs, just lazy singers." In any case the tune Angel Mom that concludes the first act is very good, and The Pippi Song is delightful.
The aspiring child actress (a cross between Jon Benet Ramsey and Shirley Temple) is played precociously by Jessica Cohen, while her domineering mother is given an energetic portrayal by Susan Johnston Taylor (both shown in the second photo). Each have very fine voices, and they are ably supported by Michelle Malia, who plays a repressed musical theatre director. She gets to deliver one of the best lines: "Life is a bitch and it starts in 3rd grade!" Adding to the fun are actresses Michelle Cheney and Kelsey Kimble.
A special thanks to costume designer Scout Gutzmerson, whose every-changing wardrobe for Sylvia is not just eye-catching but central to moving the production along.
City Theatre Austin is the premiere venue in the city that offers us a year-round selection of drama, comedy and musicals in an intimate setting. Their next production, Playhouse Creatures, begins July 13.
Ruthless is being performed through July 8. Visit the website for tickets: citytheatreaustin.org
Photo credit: Aleks Ortynski.