Each year, around August or September, the Austin-Oita Sister City Committee (AOSCC) holds its annual Japan Festival at the Austin Asian Cultural Center. And each year, it is packed to the brim, overflowing with Japan lovers and Japanophiles. This year was no different. This family-friendly half-day festival features vendors who sell Japanese food and drinks, kimonos and crafts, tables set up for kids' activities, cultural education seminars, and live performances.
I love this festival on so many levels. Having lived in Japan for five years eons ago, with multiple trips to the ever-changing country for decades, my abiding interest in the Japanese people and all things Japanese has not wavered. When I first landed in Austin in 2011, there were less than three Japanese (authentic) restaurants (Kome was then a food truck, and I befriended the owner), and Ramen Tatsuya was worth driving to at over twenty-five minutes one way. There was only one place to get Japanese foodstuffs: the Asahi grocery store on Burnet Road. The lack of Japanese culture in Austin reminded me of the late 1970s in NYC when just a smidgeon of things Japanese existed. I was disappointed at the time. Yet now, twelve years of omakase is the "norm," and Japanese food can be found everywhere. I believe it to be in part to the good works of AOSCC.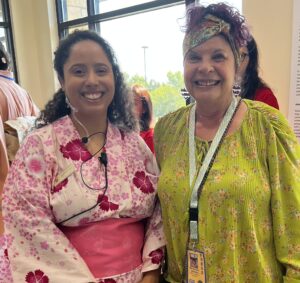 AOSCC brings to Austinites the culture, language, and people of Japan through its programming, events, and activities held throughout the year. Promoting goodwill and friendships between the sister cities of Austin and Oita (located in southern Japan on the island of Kyushu), AOSCC is one of thirteen sister cities Austin has relationships with.
This year's live events included J-POP, Japanese drumming, dancing, sumo, kendo martial arts, a tea ceremony, doing business in Japan and making sushi seminars, a talk on Japanese gardening, and an artisan and festival marketplace. Head drummer Hideo Yamanouchi from Tesshin Daiko, a drum troupe formed in 1976 by ironworkers at the Shinnittetsu Oita Stello Refinery in Japan, played in the spirit of or dedicated to ironworkers. I overheard a dedication given to officiating a Japan Day in Austin which made me smile.
Back in the 1980s I worked on a big project for Benihana Restaurants, and had forty mayors in forty cities where Benihana had locations designate a day in March as Experience Japan activities included Whisk Your Own Matcha, Shodo Calligraphy, Water YoYo, Origami, Kendama Japanese Skill Toy, Gator Panic Game, Basic Japanese Conversation, and Japanese Mahjong.
If you missed the festival this year, be sure to go to the AOSCC website to learn more about the organization and of course, next year's festival.https://www.austinoita.org/
Photo credit: Janet Bernson