If your life is lacking a bit of whimsy, this musical is for you. The Girl Who Became Legend saw its world premiere at the Zach Theatre on Sept. 15.
I'll set the stage, so to speak, by quoting from the playwright, Sarah Saltwick.
"As a kid, I loved reading stories and making up my own. My favourite ones had brave kids, wilderness, and a sense of magic and play. It's thrilling to now get to create stories for the stage especially for young people. In writing this play, I was inspired by folk legends of the past and tall tales where the truth was stretched for dramatic effect!"
This is a fable, and as with any fable each person will have his or her own interpretation. I don't want to unduly influence anyone by imposing my interpretation; suffice to say it is, as the title suggests, the stuff of legend.
We follow a young girl, Raina, on her quest to capture a cloud. The place she lives, Dustbin, desperately needs rain (thus, her name). This has ancient precedent, of course. For example, the god of fire, Vulcan, gave his name to volcanoes. In this case the name of one of the composers for the musical is Helyn Rain Messenger. So bizarre, one can hardly make that up, as rain messenger is the whole point of the show!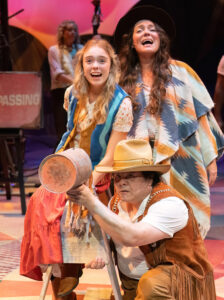 Along her journey to reach the top of a mountain, to hopefully get closer to the cloud of her quest, Raiana encounters a cast of strange characters, who will be familiar to everyone: Calamity Jane, Rip van Winkle, Paul Bunyan and Johnny Appleseed. The ensemble cast does a great job at bridging the gap between the believable and unbelievable.
Even though this is a fable, some of the dialogue is quite topical. This is a place where story-telling is dangerous, and books are banned. The mayor of Dustbin even closed the library. Sound familiar, Texas? There is often a fine line between whimsy and horror. Raina has lots to deal with here, including blind prejudice. We are told in the play that "imagination is not a crime." Tell that to the state house, if you dare.
Even though it is geared to kids, who are given a guide upon entering where they can draw their own legend like a comic book, there is lots for adults to ponder here too.
A great set design by Lisa Laratta; Music and additional lyrics by Helyn Rain Messenger, Amber Quick, Paul Sanchez; script and lyrics by Sarah Saltwick; the director is Liz Fisher.
The Girl Who Became Legend will play at the Zach Theatre till October 1, 2023. This is a co-production with the Kennedy Center in Washington DC, where it will appear in February 2024.
Words spoken at the Texas Tribune Fest, held in Austin Sep 23/23: "To allow the governor to close libraries and y'all aren't out there protesting every day is a disgrace. Go out there and fight for those kids." – Journalist Nikole Hannah-Jones in response to Texas book bans.