Hosted by Texas Performing Arts at UT, the youth performance this reporter had the privilege and delight to attend at Bass Concert Hall. It's a showcase of West African and African American drum, dance, music, and storytelling coordinated by Imani Aanu, co-founder of Austin-based artist collective RE-CLAIM (Revolving Evolution of Culture Loving African Americans In Motion), who performed with members of the Austin-based Bramaya (West African Music and Dance), https://www.youtube.com/watch?si=FoZSdGno3TRyDDST&t=16&v=2g9KnK8hyKQ&feature=youtu.be and Houston-based Baba Ifalade, founder and soloist of award-winning D.R.U.M. (Divine Rhythm, United Motion) https://www.instagram.com/reel/CwG8OJ9IKGs/?utm_source=ig_web_copy_link&igshid=MzRlODBiNWFlZA%3D%3D
The audience consisted solely of a rainbow nation of middle school students, rare to see in Austin, who went ballistic at the performances. Watching their expressions as they connected and related to the musicians and dancers was a delight. Their hoots and hollers of acceptance made me want to dance with the performers. Still, we were discouraged from following along with the lead musicians and storytellers, who invited the audience to clap along or repeat specific phrases after them.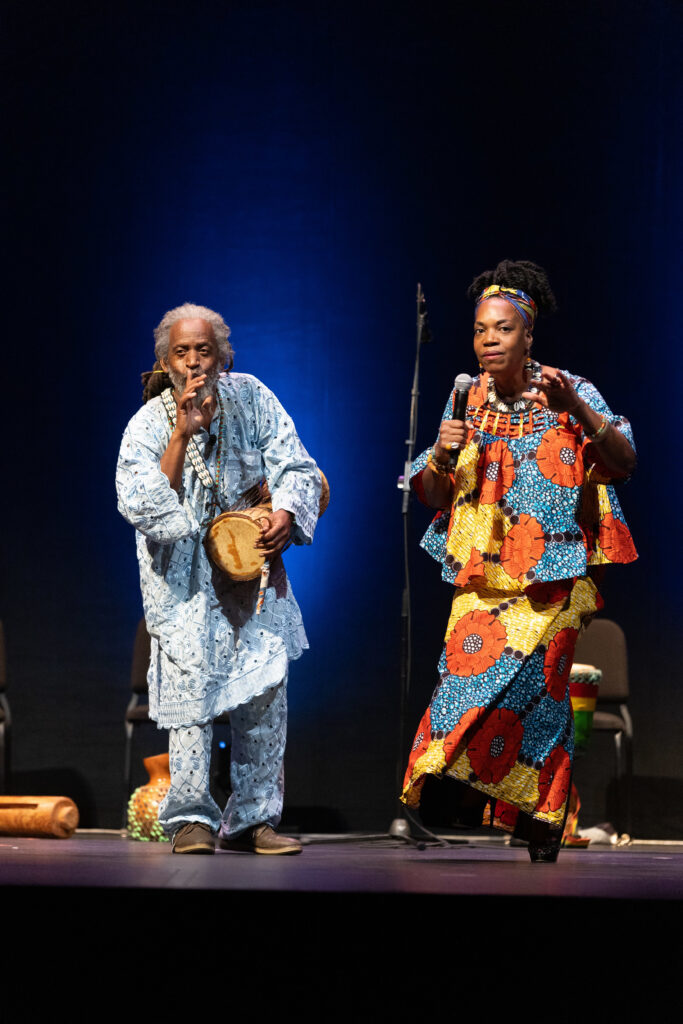 The kids dug into the communal aspect of how music, storytelling, and dance are integral to West African culture. The participation of elders who communicate as oral historians was not lost on the youth, who ate up every word the elder on stage spoke, imbuing themselves with the rhythms and cadence of his words, leading to singing and dancing.
The vibrant outfits the women wear are typical West African patterns of contrasting colors. The headdresses reminded me of those worn by queens of yore on the continent, think Queen of Sheba. Yet headdresses are everyday accessories and part and parcel of West Africa and other areas, as the African dress code. Impressive, intense movements are happier and more light-hearted than tap dancing, which is (to me)  "the" most joyful dance ever invented. I wish this performance were held in the evening for non-primary and middle school students so that the rest of Austin's population could embrace and RE-CLAIM their inner West African.
Photo credit: Robert Silver