It sounds corny; Warner Bros. film music performed by a string quartet, doesn't it? At least, it did to skeptical me, but curiosity got the better of me, and off I went to another Candlelight music series: the 100 Years of Warner Bros. I'm a fan of Broadway musical numbers and film scores from classics such as Casablanca or The Sound of Music or more recent hits such as Shallow from La La Land, all of which are on my YouTube music playlists.
This performance was at the St. Episcopal church downtown. The Historic Sanctuary at St. David's Episcopal Church in Austin was one location amongst 50 global cities, including New York, London, Paris, Singapore, Milan, São Paulo, and Mexico City,
The packed venue was filled with its fair share of octagenarians and hosted a smattering of families with younger children dressed in what looked like their Sunday best and a few Austin hippie types. A lovely woman sitting next to me was giggling and clapping for the show to begin. Many people hummed along or bopped to the instrumental versions of Singing in the Rain, As Time Goes By, Scooby-Doo theme, Pure Imagination from Willy Wonka, Prince's Purple Rain, or Tubular Bells from The Exorcist, the Batman theme. The Fellowship of the Rings was a favorite amongst the audience.
The Houston-based string quartet mentioned they had performed over 1,000 shows this year, consisting of two violinists, a violist, and a cellist – the Divisi's Amp'd String Quartet. The sound was amplified beautifully in the cavernous space. They glided their strings playing the Warner Bros. tunes going from happy-go-lucky to somber, horror to celebratory.
Warner Bros., founded by Albert, Sam, Harry, and Jack Warner, began celebrating its centennial on April 4, 2023, and throughout the year. The Studio is home to one of the world's most successful collections of brands. It stands at the forefront of every aspect of the entertainment industry, from feature films, television, and direct-to-consumer productions to animations, comic books, video games, consumer products, themed entertainment, studio tours, and brand licensing. The Studio's vast library, one of the most prestigious and valuable in the world, consists of more than 145,000 hours of programming, including 12,500 feature films and 2,400 television programs comprised of more than 150,000 individual episodes. Warner Bros. is also home to one of the most diverse portfolios of adored franchises, including Looney Tunes, Wizarding World, DC, FRIENDS, Game of Thrones, Hanna-Barbera, and many more.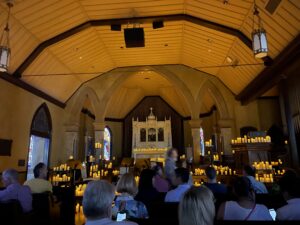 1 total reaction
Elise Krentzel reacted with 🧐 at 2023-08-13 14:51 PM