Anyone who's moved to Austin knows that Tex-Mex is what Chinese, Italian, or Japanese is to the local cuisine in other cities. Newcomers don't know that authentic Mexican cuisine is way harder to find in Austin (not in Houston or the southern tip of the state) than perceived.
Welcome Veracruz Fonda & Bar at 1905 Aldrich Street in the Mueller district, where the short-lived JT Youngblood's chicken restaurant stood for less than a year. Sisters Reyna and Maritza ​​Vazquez opened their latest venture a little over one week ago, dedicated to the town they grew up in, Veracruz. It's an all-day sit-down eatery serving breakfast, lunch, and dinner from 8 am – 10 pm, Wednesday through Sunday.
I went on two occasions: breakfast during the pre-opening and dinner a few nights ago. I'll talk about my dinner experience. I went on a Sunday night at 7 pm, and the place was fully packed. Coming from NYC and various European countries, one generally doesn't find warehouse-type rooms in Austin, like in European cities, NYC, LA, and Miami. What an expulsion of breath I let out upon entering.
The spacious room is airy and open to two sections of the long patio area: a lounge/waiting area and indoor seating. The lounge area had lounge chairs and high-top tables. We didn't know where to wait as navigating was slightly confusing. No one could tell us. Once inside, the light in an already colorful room could cheer up even the grumpiest of diners. The walls are papered with images of three women. One has a playful image of a woman with Mexican bingo cards as a background wearing a canvas hat – the same canvas used to collect coffee beans from their local supplier, Desnudo.
I initially went alone to dine however, the couple sitting next to me turned out to be well-informed international foodies and quite the conversationalists, so I suggested we move our tables together and break bread. We chatted about our favorite dining spots in town by category and I expressed my ignorance of Mexican cuisine, which they had deep knowledge of. Despite being a food critic for ten years in Europe, I never had Mexican because it either wasn't popular or didn't exist in the countries I lived in from 1989 – 2008: Switzerland, The Netherlands, the south of France, and Sweden. I relied on them to explain everything as the kind server Erica did her level best to inform me above the dint of sound, which was hard to catch. I can read an Italian menu, and if dishes on the menu are written in Italian, I know exactly what they are, but as Spanish is not one of the three languages I speak, I had no idea what Erica was talking about.
I started with El Trio, a triad of spreads: sikil pak, refried black beans, and guacamole served with totopos. I didn't know what sikil pak was but thoroughly enjoyed it: mashed pumpkin seeds in some type of oil with a consistency of hummus and a deep aromatic smoky flavor. What were totopos? Ah, crunchy fried tortilla chips that weren't too greasy. Salsa Martajada was served alongside the trio. It reminded me of a lighter, less punchy harissa or chili oil.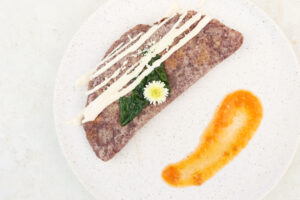 Next, Shrimp Ceviche & Totopos are made with a Pico de gallo, fresh lime juice, red bell pepper & avocado. It was refreshing and quite a large portion. I ate it without the totopos. Erica brought out an empanada de queso & epazote – a deep-fried masa filled with queso fresco, epazote, topped with cotija cheese, Mexican crema, and salsa (pictured). The menu said topped with "your favorite salsa," but I wasn't given a choice. Even after scouring Google and translator programs, I still don't know what epazote is.  I liked it save for the thickness of the empanada shell. That's a personal preference, so take that with a grain of masa! Three different salsas were served between these dishes, but I do not have the names; only shades of reddish brown remain distinguishable in my tastebuds.
My new friends had to wait about an hour for their dishes, but the server owned the mix-up and made good by offering them a discount. I tried a bit of the plantain and chicken in mole, which was divine (I do not like a sweet mole); lemony, slightly bitter, and rich. I was too full for dessert and had a Cafe Lechero. Lecche from the Italian, I understood but boy was I pleasantly surprised by the showmanship of pouring the milk Chinese tea style from atop like a flowing river into the espresso.
Going to the restroom posed a bottleneck. On one side, employees come in and out of a door while I and others waited for a free stall, yet somehow we didn't know where to wait, and there wasn't enough wiggle room. The same at the tables. We sat far against the wall adjacent to the outdoor table seating area. A strange white thing about four feet high blocked my exit between tables. I had to move it out of the way to leave. Also, the tables were squashed together; too many lined the wall. I had the misfortune to inhale the retched odor of a diner who had just worked out and reeked of working out.
Besides these minor inconveniences, Veracruz Fonda & Bar is a winner.
The sisters are familiar with what works in Austin. The chefs run the best (according to some polls) taco truck in town, and the NYTimes and others have praised their tacos as one of the five best in America! Veracruz All Natural, located on the spot of Radio Coffee & Bar in south Austin, and several other Mexican food trucks and restaurants.
Menu can be found at:
https://veracruzfonda.com/lunch-dinner-menu/
Editor's note: Epazote is a large, leafy aromatic herb that's used in Mexican cooking, particularly in central and southern Mexico. It's often used to add flavor to dishes like black beans, pinto beans, and in soups and stews.