Fly Culture opened its doors to an enthusiastic melange of "fly culture" admirers, shoppers, friends, and artists. The eclectic and first in Austin, stylish shop for hip-hop culture includes a range of unisex streetwear you won't find anywhere in town or elsewhere, period! That's because owner Adam Mcarthur has a true team spirit regarding his business (and life).
"We source with partners, and one example is the production of shirts and jeans with the head tailor for Levi's in Texas, Austin Beaman, who does the famous Levi's stitching," says Mcarthur, who has two other businesses besides Fly Culture. Bam Box is an autographed celebrity and athlete venture whereby every product – from collectibles, artwork, memorabilia, and the like – is signed in limited editions and purchased directly from Beckett, a 3rd party authenticator of celebrity signatures. Each item has a Beckett seal on it.
"I have access to athletes and celebrities, artists and musicians, and can bring together all the collections that I've loved ever since I was a little dirt-poor boy on the mean streets of a small town located between Portland and Salem, Oregon, a place that is now hip and in wine country. I loved collecting toys found at community centers. After I'd scrubbed them down with toothpaste, I'd sell them",  he relates in a down-to-earth manner without any regrets.
The toys, limited edition manga canvases, skateboards, vinyl LPs, books, and other goodies sold here are new school nostalgia. Adam pulls from the past using recycled fonts, colors, and music from his childhood to evolve the hip-hop culture. After Covid, and maybe even before, community as a concept devolved. He's created Fly Culture as a center for happiness and love—kind of hippie-ish with a fly attitude. A dripping face adorns the doors of Fly, which reminds me of Edvard Munsch's painting The Scream. I asked if "that face was about his happy-go-lucky attitude meaning the face of sorrow is dripping away to one of a smile?" He chuckled and then showed me a tattoo on his arm of a smiley face!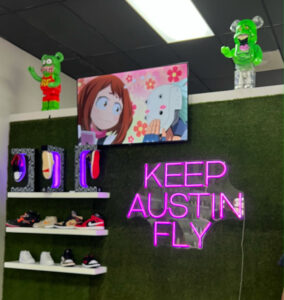 Sports run deep in Adam's family, reflected in some of the streetwear tees and hoodies emblazoned with team logos. Adam's father was an NFL player for the Chicago Bears, and he was formerly a pro basketball player. One of his three sons is also a basketball player, while the other two and his daughter are fun-loving kids who like to hang out at the shop and with their parents, who had home-schooled them since the pandemic when the family moved to Austin. All the children are street-wise and financially aware of handling money and doing business. Their approach to life is far from conventional as the parents are fans of real-life experience and traveling worldwide and in the USA. Adam's wife, Taryn, hails from Pretoria, South Africa.
Adam's third business is his streetwear brand Big Beast, probably named after his imposing physique of 6'8" and 280 pounds. "Yeah, well, I couldn't find anything that fit me as I'm so tall, so I made this line for tall boys and men specially," he adds. The unique method by which he sells his brand and other products is via the app WhatNot – live selling, an original experiential way of marketing products live to the customer via video streaming. The seller interacts directly with the customer, who can bid on the collectible and limited edition items such as the re-release of Kiss' 1st comic book or a mystery box filled with art and clothing.
"And what are your plans for the future?", this inquiring mind wanted to know. Adam revealed a handful of creative ideas he's working on, such as the VIP center at the front of the shop, where celebrities, artists, and other notables he invites for launches will be interviewed live on his podcast during business hours as shoppers mull around. Live music, painting exhibits, dance, or other mixed media performances are planned.
Most of all, Adam wants the hip-hop community in Austin to feel connected and integrated as one whole and to become part of his Fly family. The shop is, in a way, a nostalgic hub, a new-school style for those who didn't grow up with the east coast hip-hop culture that began in NYC. In the 1970s, when rap was first created and played on the streets of The Bronx, musicians, spray artists and muralists, and skateboarders all commingled in one community. Eventually, that grew and grew apart. Adam wants to bring back the good ole days with a twist. It looks like he's going to pull it off.
Fly Culture is located at 7756 Northcross Drive, Suite 102, Austin, TX 78757, in a strip mall. Hours of operation are: Monday and Tuesday are Man and Woman Cave Days by appointment only; Wed thru Friday, 11 am to 7 pm; weekends from 12 pm to 5 pm.
Realflyculture.com and IG @realflyculture
Lead photo – the entire family with reporter
Photo 2 – In the shop