Karess Pastore, a Chicago-born, Minneapolis-trained sculptor and artist has been churning out works in her studio in the Arboretum in Austin for several years. The studio is in a garage adjacent to her apartment complex. Filled with polyurethane sculptures, wood, stone, and painted objects, one sees a kaleidoscope of patterns, textures, and hidden meaning behind each piece.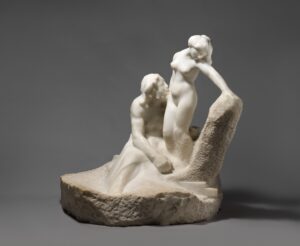 "I leave the back of each sculptural object (except for my stone sculptures) messy and unfinished," Karess explains, "since the beauty is in the front and not in the back." She explains that people are a work in progress; what we see of them is the front-facing human, what they want to show us. In Japan, there is an expression and an artistic process called wabi-sabi to describe objects, sculptures, clothing, art, interior decorating, etc. Wabi is the outside, while sabi is the underbelly.
Pastore's work brings to mind Rodin's Pygmalion and his Statue not stylistically but instead for the process. This particular work of Rodin epitomizes her philosophy: sculpting a woman who is left unfinished, yet to become alive in all her beauty.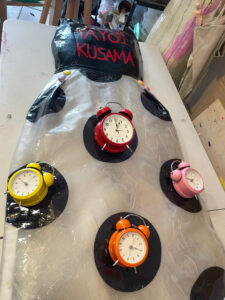 Her recent works involve clocks of all sizes and shapes. The series is entitled "Not A…."Not a Dali. Not a Magritte. An unfinished piece made of resin, cloth, and polyurethane is based on the artist Yayoi Kusama whose trademark is polka dots. The Not a Yayoi Kusama has several clocks attached to the front of the silhouette of a dress, each one replacing a polka dot. I wondered why she used clocks. Was she a bit cuckoo herself?
Pastore smiled, "Well, maybe a bit, as one needs to evoke through metaphors. In this piece, as with all the others that feature clocks, time is ticking. I believe in life, everything is time. Time to grow up when you're a kid, time to finish school, time to have kids, time to marry or live with someone, time for death."
For Pastore, time is of the essence and doesn't stop ticking. That's one reason she's so prolific. She admires Yayoi Kusama, who never stops producing art unless she's sleeping. Kusama works around the clock to save herself. As she lives in an insane asylum where she willingly admitted herself, she spends all her time creating art.
I want to know if Pastore is also saving herself from the harshness of life. "Well, yes, sort of through my artwork. If something bothers me, it disappears while I'm working in my studio."
I probe, "But are you working out that problem as you paint now? Where the result is an artwork which becomes the conclusion of the problem?"
She ponders the question and then answers, "yes, partly. For example, there's an overly dramatic piece about the relationship with my partner of 16 years which is now over. I see her. She doesn't see herself. I like to write these things out. Words are difficult because I'm not a detailed fine artist. My art is a chunky messy kind of work. No tiny little paintbrush, no pen and ink or pastoral scenes."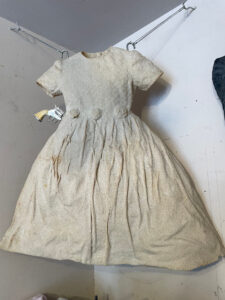 Resin, fiber, and stone are Karess' core mediums. Big, complex, and bold materials. Like her statements. A piece I named on the spot, Sugar and Spice are Not Nice! has an extraordinarily sad effect on me. A child's dress of glitter without a person has a gun attached. It's a political statement about the Sandy Hook killings and gives me shivers. The sugar and sand are understandable metaphors. The gun represents killing, and the hooks represent the roughed-up and traumatic parents' reactions, located as a blurry mess in the back of the dress.
The sugar is slowly dissolving into nothingness, just the children who paid with their lives. To me, life had its hard beginnings, very rough, like Pastore's art. To get to the soft underbelly one needs to work at it and then release the beauty hidden within the form. People are hard and Karess Pastore understands this intuitively. Yet she found a way to give space to hardness through her artwork.
Collections
Ralph Burnett, an NYC real estate mogul, purchased her art for his property, the Chambers Hotel, now the Meridian in Minneapolis, alongside artist Damien Hirst.
Tweed Museum, Duluth, MN
Davis Miller/Minnetonka Moccasins, Minneapolis, MN
Bally's Casino, Las Vegas, NV
McDonald's Corporation, Chicago, IL