On a trip to a church in London in September, I chanced upon a colourful card giving notice of a concert a few days hence. Even though it was in a part of London I had not visited before, I resolved at once to attend a performance on The Fall of Troy. Since I have a degree in Classics I could hardly resist, and the chance to hear from the 16th and 17th centuries was also an irresistible lure. As it turned out, I was not to be disappointed.
"This church itself was destroyed on the very first night of The Blitz," said Father Andrew Doyle of Holy Trinity Church, Rotherhithe. The church was rebuilt in 1957. "At the entranceway is the Holy Trinity cross: have a look at the tiny crucifix in it. It was found by a little boy when the old church was bombed. He kept it for 60 years and then donated it to the church. Even though it is charred and bears the hallmarks of war, I believe it stands as a symbol." As part of the service where the crucifix was restored here, "we also had somebody from Ukraine who read a poem for all the people who are suffering there at this time. So in part the Fall of Troy also brings out the theme of tragedy but with it also the beauty of music."
Musica Antica Rotherhithe  was founded in 2016 Oliver Doyle and Jessica Eucker. I was told by a music expert in the audience that even the 'antica' music one can hear in Cambridge does not venture into the obscure but important compositions performed by this group. For true enthusiasts of music from Early Modern times, this is the place.
The concert began with "an incredibly bizarre sonata in G minor by the Italian composer living in Austria Giovanni Valentini (1582-1649), before moving on to the sack of Troy," explained Doyle. The centrepiece of the night was music from the 1641 opera La Didone by Francesco Cavalli. It is named after Queen Dido of Carthage, who Aeneas had a fling with before heading off to Latium, where he founded the city of Rome. Their encounter is captured in a tapestry in my private collection; detail is pictured here.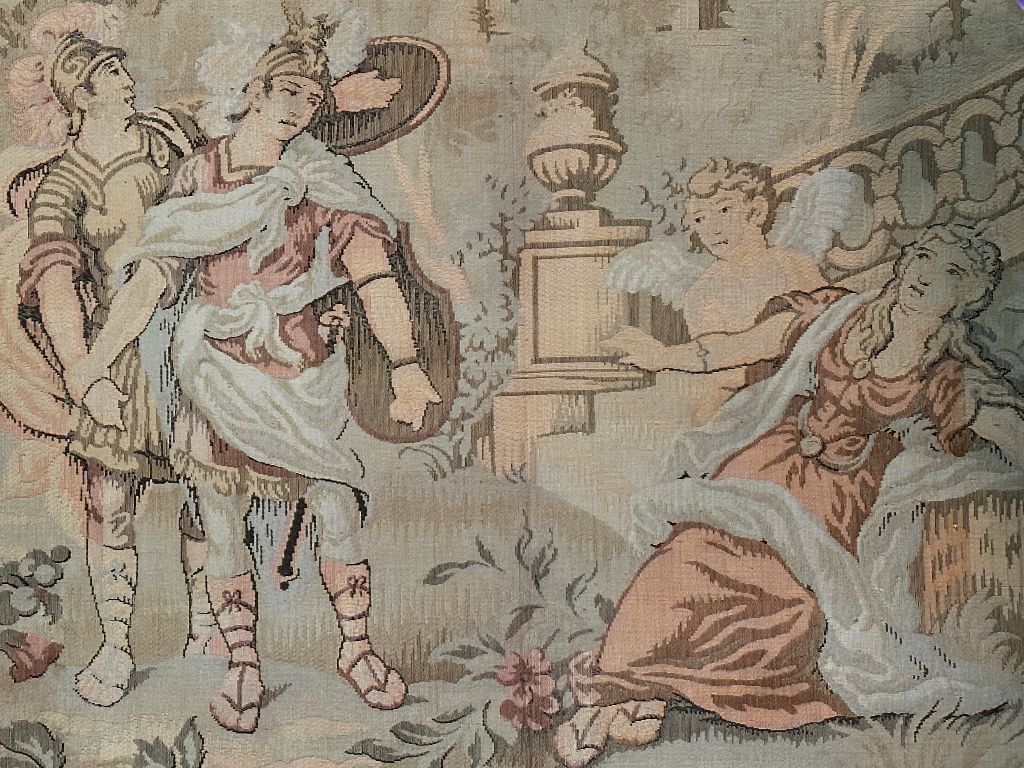 In the opera, said Doyle, "There is this band of men being told by the Gods to try and escape, so they tried to break through the Greek onslaught. The leader, Aeneas, is stopped by his son Ascansius, who begs his father not to leave him behind. His wife does run back because she's left all her possessions."
There is a lot of moral telling in the story: what do you value more, your life or your possessions? This comes from Virgil's Aeneid, which made him required reading for school children in the Renaissance and long afterwards. After Ascanius' plea, his father takes him his voyage away from Troy.
In Cavalli's opera, Cassandra (a Trojan priestess) is raped by Ajax, a leader of the Greek forces.  In this concert, we hear "two of the most unsettling laments of the Baroque era, hers and her mother Hecuba's, to share in their horror and grief. Both sing laments amidst the fire of Troy just as this church 80 years ago would have been a smoldering ruin." The laments of both Cassandra and Hecuba were sung with an amazing depth of pathos by Caitlin Golding. Truly heart-rending.
I asked Doyle about the harpsichord he plays (lead photo). "The instrument was made by Michael Thomas, and was one of the first instruments of the Early Music Revival to be built using materials true to the early 17th Century. I painted it after a Venetian instrument by Vito Trasuntino (1580), and it includes the motto (on one cheek panel) 'Rendo lieto in un tempo gl'occhi e'l core' (I render happy in an instant the eyes and the heart)."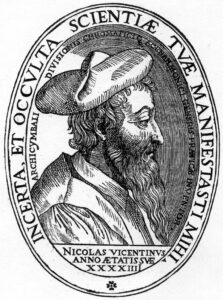 The concert moved on to compositions by two great musical protagonists. "The piece by Nicola Vicentino (The air and the green laurel from 1572) wasn't particularly well studied until the past 5 years. Vicentino had a sparring match over the nature of chromaticism with Vicente Lusitano, a black composer from Portugal."
Sanctioned by the Pope, "they engaged in a public debate in Rome in 1551 over the nature of Greek music.  The ancient Greek chromatic genera (a type of scale) was transmitted through the ages by the writings of Boethius (who died in 524); it was his text De Musica that was the principle text for studying music theory for more than a thousand years."
But, explained Doyle, there was a key point of knowledge missing in their understanding of the Greek scale. "What they didn't understand was there's a sort of comma in between the two scales of notes, and they had no idea how big that comma was. Vicentino decided there was a fourth in between but Lusitano decided there was only a tone. They argued about this for hours and Lusitano was deemed the winner," but the Vicentino piece played here is far-better known now. "Although Lusitano's music is becoming increasingly accessible through efforts to celebrate the diversity of early modern music, we know of no concert programme to have paired his chromatic work with that of his academic rival."
In this concert, Lusitano's Alas, Lord (from 1553) was performed "to a cibaldone of lines from Responsories for the 5th and 9th lessons in the Matins of the Dead." It is indeed a heavily weighted, somber piece, delivered with the utmost devotion by soprano (Sarah Mansfield), Doyle (tenor), Tristram Cooke (countertenor) and Joachim Sabbat (bass).  The concert also included a violin sonata by an anonymous composer, and a piece by Giovanni Legrenzi; both from the 17th century. Doyle said the concert "featured some of the most obscure repertoire that singers learn today." The only piece in English on the programme concluded the concert: Dido's Lament by Henry Purcell from the 1680s, also sung with precision and feeling by Mansfield.
A truly moving and extraordinary concert, performed on baroque violins by Maxim Del Mar and Flora Fontanelli, the theorbo by Peter Martin, and the viola de Gamba by Harry Buckoke.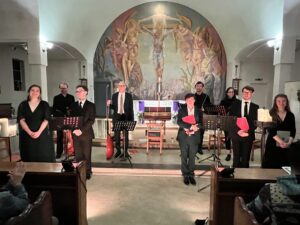 Next for Musica Antica Rotherhithe is a Jan 14, 2023 concert featuring Cavalli's Requiem and motets by his teacher Claudio Monteverdi.  The group has released an edition of Cavalli's arias, available for free in the public domain. By all means, subscribe to the group on YouTube!
https://www.youtube.com/@MusicaAnticaRotherhithe
Concerts are performed at Holy Trinity Church, Rotherhithe. The acoustics are quite extraordinary for a rebuilt church, and one member of the audience said "we are hearing it more clearly tonight than any previous concert because there are so many people here – it's soaking up the sound."  Closest tube stop in London is Canada Water, and from there hop a bus for a 10-minute ride to the church.
Lead photo by C. Cunningham
Musicaantica.org.uk