One of the best ramen shops in San Francisco debuted in Austin a little over
a month ago, Marufuku, in the Mueller district. Partners Eiichi Mochizuki and
Koji Kikura, who founded the restaurant opened several locations in
California, New York City, and Frisco, Texas.
I waited a bit to write a review until they got their sea legs, staff trained, and
worked out the kinks, which they did brilliantly. The day I arrived during the
week at lunchtime around 12:30, the place was packed. They seat a little
over sixty, and all tables, booths, and counter space were jam-packed.
Marufuku specializes in Hakata-style tonkotsu. Hakata-style ramen noodles
are skinny and the broth is super rich and creamy.
The soup is an umami-rich broth made from boiling pork bones for long hours,
and the ultra-thin artisanal noodles perfectly pair with the broth. Cha-shu is made from selected pork.
The boiling time of the ramen noodles makes the difference, as thin noodles
take less time to boil. The story about this type of ramen dates to when
fishermen living in and near Hakata couldn't wait long to slurp their bowl of
noodles before having to go back to sea.
The salty yet rich white pork bone broth is served with varying spice levels.
Marufuku is also known for its deluxe chicken paitan; I ordered this while my
friend had the pork variant. The chicken was lean and thickly sliced, tender
and juicy, and the broth was better than my grandmother's chicken soup.
And that's saying a lot! I added some sides, such as nori and vegetables.
Another chicken Paitan comes with an entire glazed and a grilled chicken leg.
Other menu items include izakaya-styled items, edamame, rice bowls, and
assorted dishes such as gyoza, karaage, takoyaki, and steamed buns.
They serve an exceptional premium sake cold in the traditional wooden box
and offer take-out, delivery, and catering services. A real bonus is that one
can enjoy ramen seven days a week, which is rare in Austin.
Reach them at 1900 Aldrich Street, suite 180, in the Shorenstein Alpha
building. Open daily, 11:00 – 9:00 pm.
@MarufukuRamenOfficial /
#MarufukuRamen
www.marufukuramen.com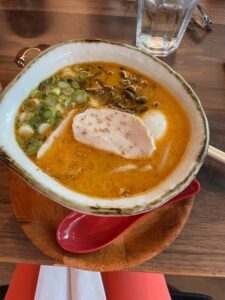 ​