Will it be Celia Israel or Kirk Watson?
Israel is a State Representative and Watson was mayor of Austin from 1997-2001. He then served three terms as a State Senator. Both made an appearance at the Texas Tribune Festival here in Austin. Here is a report on the positions they put forward for the future of our city.
Israel laid it on the line at the outset: "It's not about hiring a smart chick as mayor, it has to be a political movement." Certainly Israel came across as very smart indeed, articulate albeit somewhat technocratic, and while she did not crack a smile during her presentation, she gave the impression of a mayor who would get things done.
Speaking of her recent experience in the Taxes Legislature as a Democrat (the Legislature is controlled by the opposition), she said "I come from this legislative upside-down lane. But in the next session they are looking at telling businesses what they can or cannot do to help their employees regarding abortion." Not surprisingly, she has decided not to run for a fourth term as a Representative. "It is unfortunate, weird times we are living in. You have to be smart and pick your battles."
"I'm a boots-and-jeans type of gal. I want to get out of city hall more than I'm inside." On the subject of crime and the police, Israel is drawing on her own personal experience. "My niece was killed by her boyfriend. We all want justice: I've had to call the police on my father who was battering my mother." She has done ride-alongs with the police on a domestic situation to get an understanding of how they treat such situations.
Israel is also concerned about law enforcement staffing. "I want to make police oversight real, but we're losing a lot of experienced police officers who know how to tamp-down a situation."
She has lived in Austin for 40 years and has seen the problems that rapid growth has brought to the city, now the 11th largest in the U.S. "If we don't make major changes in housing the music capital will be Bastrop, not Austin. This is the most economically segregated city on the country. We can't continue to push people out." Israel supports free mass transit for seniors, teachers, first responders, and people living below 150% of the poverty level.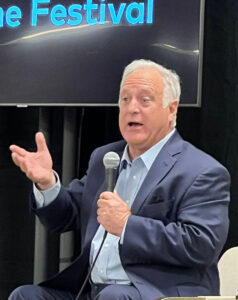 Watson is also concerned about housing. When mayor, he created a smart housing program. "What should have been done? First, recognize growth of the city. Second, make changes to the land development code to enable more housing. Third, over the years provide incentives to get more housing." He placed the problem in a broader context. "Austin is the largest but not the only place in this regional economy: affordable housing is a regional problem."
On the thorny problem of what to do with I-35 that creates an east-west divide, Watson injected some pragmatism. " I've been involved with I-35 since 2011. You're not going to get everything you want because it's not your road (Austin does not own the highway) but it can be improved."
On policing, Watson stated clearly "No one should fear our police. We need a clear focus on recruitment and training and accountability. It's not a binary choice. We need to give police more investigative powers with a transparent accountability system."
Watson said when he was mayor he relied on building consensus. "I believe in speaking plainly and listening carefully. There's a real need for creating a clear purpose, then ask what are the possibilities and get everybody's ideas. Get agreement and build on it. We are at a critical point, in part because we are no longer just becoming a big city. We are a big city, but we're not managing decay. Most of our problems are the result of success."
The former mayor, has lived here since 1981. Back then, he said, "Austin had abundance: lots of water, parks and housing. I want my grandchildren to enjoy abundance here in Austin when they grow up."
Watson, who came across as jovial fellow who did smile a lot, quipped "Don't call me an SOB until I'm in office!"
The voters will decide on Nov. 8 whether he gets to serve as Austin's mayor once again, for the next 2 years.
Photos by C. Cunningham