The concluding Masterworks concert by our local treasure, the Austin Symphony Orchestra, featured works that musically depict the landscapes of America. Guest soloist John Novacek was key to making this happen. As a pianist, he has won international competitions, and as a composer his works have been performed by the New York Philharmonic, West Texas A&M University, and many others.
Typically, a soloist will perform only one composition in a symphony concert, but Austinites had the opportunity of enjoying his virtuosity in two, plus one of his own served up as an encore.
While his second selection, Gershwin's Rhapsody in Blue, is uber-famous, his second is quite obscure in comparison. It was written by Morton Gould in 1943. Entitled Interplay, American Concertette for Piano & Orchestra, it beings with some very un-classical notes from the piano. The first movement exhibits a rarely-heard musical assonance between the piano and orchestra, and in character would be perfectly at home as a soundtrack to a silent movie escapade by Harold Lloyd.
The second movement, which features a topsy-turvy take on the theme just hears in the first movement, is very evocative of Spring in all its manifestations. But it was the third movement that really impressed a friend of mine in the audience, who is lucky enough to experience music in terms of colour. "I really adored it," she said. "It just spoke to me. For me it was like a burst of orange, a brightness that overpowered the shades of yellow and golds evoked earlier." Musically, this third movement was slower, more contemplative with elements of blues chords. One might imagine listening to this languid music while drifting on the Mississippi River on a sunny afternoon, so at variance with the bellicose nature of America now. The Concertette, named as such to be considered as a mini-concert because its movements are short, closed in a galloping fourth movement that combines a fanfare and themes in a melee of notes. One would never have suspected this was the first time Novacek had played this in public. A tremendous performance.
One of Gould's compositions from 1940 (Foster Gallery) includes a banjo, not exactly a symphony-standard instrument. We find it again in Interplay. In this performance, the banjo player was relegated to a position at far left, meaning no one on the right could see it. Since its inclusion is so unusual, it's unfortunate the instrument and its player was not given a more prominent position.
Also on the bill last week was a rather muddled composition by Aaron Copland. It was the Suite from a film The Heiress, starring Montgomery Clift and Sir Ralph Richardson, a superlative actor I was fortunate enough to see in a play. Copland walked away with an Academy Award for Best Film Score. The Suite is actually a combination of eight sections of the film score, molded into a continuous piece in 1990.
The result is not a great success. It is loud at first, then softer but meandering. A drowsy sequence of notes suddenly turns sprightly, then morphs into a melody that keeps shape shifting from one style to another. Horns blare to herald its conclusion.
The last half of the concert featured three screens above the orchestra, upon which one could see a variety of stunning photographs of the Grand Canyon. It enhanced the performance of Grand Canyon Suite by Ferde Grofe, composed in 1931. I imagine anyone hearing this in the Depression found it quite uplifting, even without the visuals which, it must be said, did not always synch perfectly with the music in the sense of matching music with image.
The Suite consists of five movements: Sunrise, Painted Desert, On the Trail, Sunset and Cloudburst. I found the second to be the finest, which was translated beautifully in the images as a system of mysterious shapes and colours. The film Dune came to mind, and not just because real sand dunes were shown on screen. As the programme notes stated, this movement is a portrayal of the "ageless, moon-like landscape, delicately pulsing with heat and punctuated by sudden moments of drama." A great way to end the 2021-2022 season.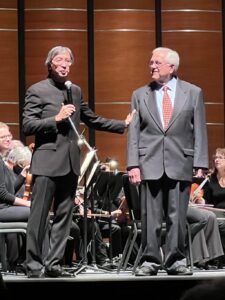 Maestro Bay also paid tribute to Charles Ball, retiring after decades as the piano tuner for the Symphony. He also worked as the piano technician at the University of Texas from 1980 to 2020. His expertise will be missed.