In 1916, the great Russian painter Kazimir Malevich wrote "If all artists could see the crossroads of these celestial paths, if they could comprehend these monstrous runways and the weaving of our bodies with the clouds in the sky, then they would not paint chrysanthemums."
Just over a century on, an exhibit at the Museum of Western Art in Kerrville affords us room after room of those clouds in the sky. While these are far removed from the Suprematism school of art Malevich founded, they do attest to man's continuing and intimate interaction with clouds and the celestial paths of the Moon and the Sun.
Artworks here that are photographs instead of paintings include The Dawn's Early Light, Sante Fe, by Tim Newton. It shows the crescent Moon peeking through several bands of dark clouds, with the city lights below. It is one of many examples here of either the Sun (quite often at sunrise or sunset) or Moon.  The Moon's phases likely allowed the earliest humans to measure the passage of time. The belief that both the Sun and Moon have a profound power over life on Earth is widespread, finding expression in many cultures. In this exhibit we see its expression in art of the American West.
I found the most evocative painting that directly links life and the Moon is by David Grossmann. Entitled Full Moon Through Winter Trees, it exudes a studied serenity that sets it apart in this large exhibit.  The Moon features in several other Grossmann works, notably Moon and Low Clouds in Sunset Colors. His linen panel Night Shape most closely hews to Malevich's most famous painting, Black Square, which depicts exactly what it says. In Night Shape, the image is almost entirely black, with Moon appearing in the upper range, on the edge of solid dark clouds.
In the accompanying catalog, Grossmann (who studied at the Colorado Academy of Art) wrote "In an age of convenience, speed, and noise, my paintings are quiet, slow, and made by hand with materials that have been used for centuries. Making these paintings is an act of contemplation for me."
There are a dozen artists in the exhibition, each with a particular style. Michael Magrin adopts a somewhat abstract depiction of clouds; John Taft shows us the glory of sunset in Evening Song.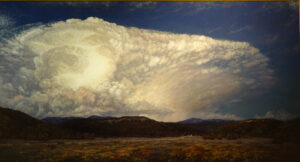 Phil Starke depicts the flip side of good weather in his oil canvases Thunderhead Over the Rockies and Sudden Downpour, Arizona. Thunderheads are also in works by Phil Bob Borman and Linda Glover Gooch. Laurel Daniel writes "We marvel at a powerful thunderhead and find peace when storm clouds depart." Incorporating the title of the exhibit, she goes on to say "The heavens declare…sometimes with a shout and sometimes in a whisper, but always with a promise of irresistible hope." Her paintings featured in the catalog reflect the departure of those nasty storm clouds, in such works as Clouds Part, Hope Returns, and Love's Pure Light.
Denise LaRue Mahkle gives us a view of clouds from up above, perhaps in an airplane; and David Griffin offers a dramatic oil of a bright Moon illuminating a towering cloud. "My paintings are direct observations," he writes, "results of a life and heritage spent close to the Land, the People, the West."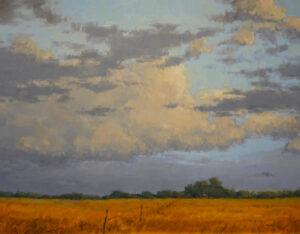 The clouds in the painting Moving in Splendour by G. Russell Case remind me of a cloud study done by the English painter John Constable in 1821 (it is now at the Clark Museum in Williamstown, MA). Both works depict white clouds, partially obscured by closer, dark ones. An excellent way to add a third-dimension to the sky. Case also did In the Light, showing a lone figure on a horse looking at a brightly lit orange-coloured mesa, surmounted by ominously dark clouds.
In the gallery, we see displayed in front of each artists' display the paints, sketches and work tools used by them, a most unusual and welcome addition to simply viewing the 2-D works on the walls. All the works are tastefully displayed, with each artist given a separate space. Everything is for sale, with prices typically ranging from a few thousand to tens of thousands.
A beautiful and uplifting exhibit, this is worth the 2-hr drive from Austin, and a great excuse to visit the real Hill Country of Texas. After your mjseum visit, head on over to the newly-opened 323 Bakery for some tasty treats! It is in the neighbouring town of Ingram, just half a mile from a large scale model of England's Stonehenge.
Museum of Western Art: www.museumofwesternart.com   1550 Bandera Hwy, Kerrville, TX
The special exhibit The Heavens Declare! (inspired by Psalm 19:1) is on thru July 9, 2022
The entire 129-page catalog of the exhibit is available online, on their website. Printed copies are available in the giftshop, with a special one signed by the artists for $50.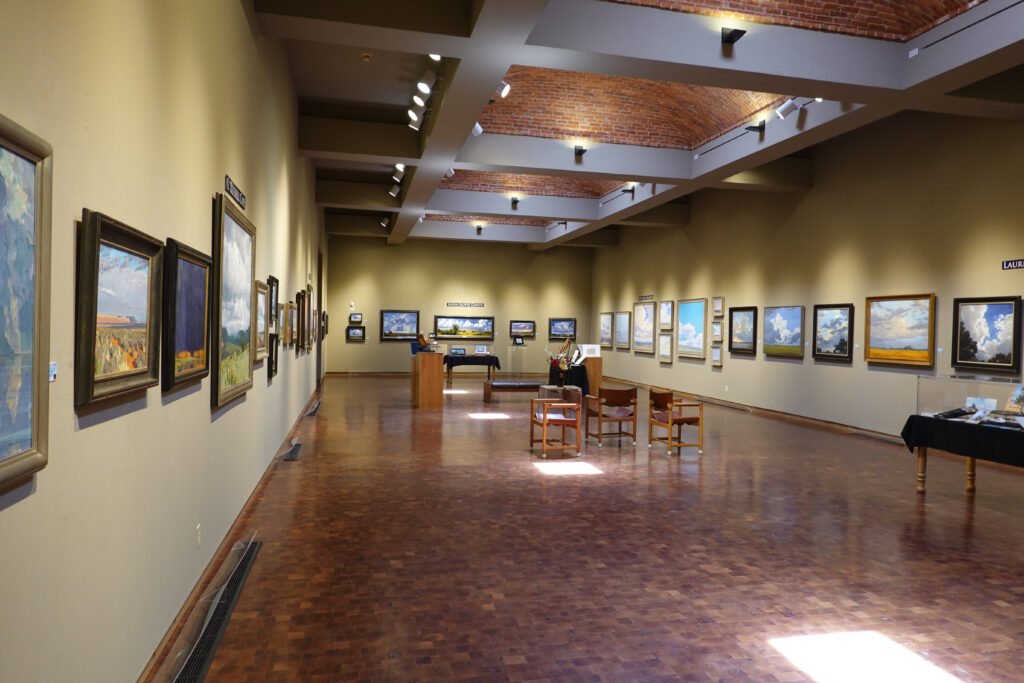 Moon and Low Clouds in Sunset Colors by Grossmann