People are so inspired by the clothes at H Bar C they bring in their own vintage wear just to share the memories. Since the company started in 1897, there are a lot of memories.
Jenny Raesz, manager of the Ft. Worth store, told me of a rodeo queen from the 1970s who brought in purple brocade pants the company made. "A lot of people have their favourite stories of their H Bar C shirt. There was a gentleman from New York City who came into the store with a double eagle shirt. He had cancer and would go into his appointment wearing that shirt every time. He said 'this is my favourite shirt and now I'm cancer free!' What the eagle symbolizes was really dear to him. I got chills I was tearing up when he told me."
Raesz said a lot of people from Japan are fans of H Bar C clothes. "They love the bolero jacket! And it's big in Australia too."
"In our history," explained Raesz, "we have supplied clothes for John Wayne, Roy Rogers, Dale Evans. The firm started in NY City and moved to California. Home base now is Bloomfield Hills, Michigan."
Gianni Gibson, manager of the Nashville store, told me how the sales booth at SXSW happened. "Rick Stahl is the owner, and he had an initial inquiry about doing SXSW and I said yes, this is an event you need to be a part of. It has a very big international presence, which this company also has, so it was a no-brainer to plop in the middle of this and set up shop."
At the SXSW booth, Raesz said the offering was "a little bit country and a little bit rock n roll. A little Donny and Marie. We use recycled eucalyptus so we have upgraded the fabric for a better feel instead of the gabardine we used to have. This is a more luxurious material, and we even have some vintage pieces that have been brought back to life with better fabrics, sometimes adding a fringe, or rock crystals for a bit of bling."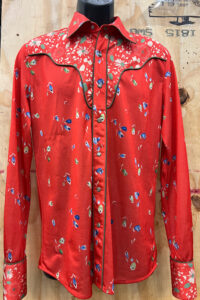 I asked more about eucalyptus, which is not something most people have heard of in fashion. "It feels like you're wearing your favourite pyjamas. You feel good in it, you look great in it, it wears well, it falls well and it also washes wonderfully. You're getting a nice piece but the prices are not super expensive. The feedback is 'this is a great quality piece.' You will pay from $100 to $500 for a shirt. The shirts at the upper range have the chain stitch, Swarovski crystals and a lot of detail."
Raesz described how people typically wear H Bar C clothes. "I like that you can do different things with our clothing. You don't necessarily have to be in the Western culture. It's nice to see how people put things together. With a lot of our things you must have a confidence to wear which is nice, but it's great to get someone that wouldn't normally wear something like this and bring them in – make them a customer and a believer."
Essentially, it's all about good vibrations (apologies to the Beach Boys) amongst the customers.  "Once they get compliments from other people, they come back. It's all about making people feel good about themselves. We're in the art of trying to make people happy. It's really cool to see when someone tries something on – they get the turn of the neck or the swing of the hip. It's fun!"
The address of the Fort Worth store is 2235 North Main Street, located in the Stockyards. "Our building is over 100 years old. It was a hotel that had partially burned down so doesn't have a second story, but we have the original concrete floors. It has a pretty cool vintage vibe." It is a new location for H Bar C, open for just 7 months. For those who don't visit the store, you can see the H Bar C clothes at the big PBR rodeo in Fort Worth in May.
Jenny Raesz with Sun News Austin editor Cliff Cunningham, at the SXSW booth