There are many caves in central Texas, and some are right here in Austin. Back in August 2019, more were found in the area of La Crosse Avenue bridge in south Austin. You can't visit those but there are 4 cave systems in the greater Austin area and south towards San Antonio that can be toured.
The best of these is Natural Bridge Caverns, the largest one in Texas. In a state famous for everything being big, this is the place to be if you like caves and perhaps even better if you have never been in one before. The wow factor here is very high indeed.
The caves were discovered in 1960 by Preston Knodell and Orin Knox. You can see a plaque dedicated by Texas Gov. John Connolly in 1964 to mark the event, and inside, the crawlway where they entered the cave is clearly marked. A recent interview with Knodell and Knox can be seen on the naturalbridgecaverns.com website, where they describe their amazing find. The first half mile of the cave they found is now the path taken on the Discovery Tour, which leaves many times a day from 9am to 4pm. There is also a Hidden Passages tour, and for the really eager you can get a combo ticket to experience both.
Even though it has been open to the public for many years, the cave is still making news. Knox, now 78, was part of an expedition in May 2019 that entered a previously unexplored passage some 600 feet long. They first went to the "dome pit" after trekking 90 minutes past the furthest point that tourists reach. Ever since Knox and his young teammates found it in 1960, there have plans to revisit the pit. The undiscovered passage was found after climbing 70 feet from the floor of this huge room. A few weeks later other expeditions (one lasting 19 hours underground) discovered 1600 feet of new passageway leading to a room dubbed Frozen Falls Chamber. It is 135 feet long, 40 feet wide and 30 feet tall, featuring a 6-foot-deep pool. The Wikipedia page on the caverns has not been updated to include these 2019 discoveries.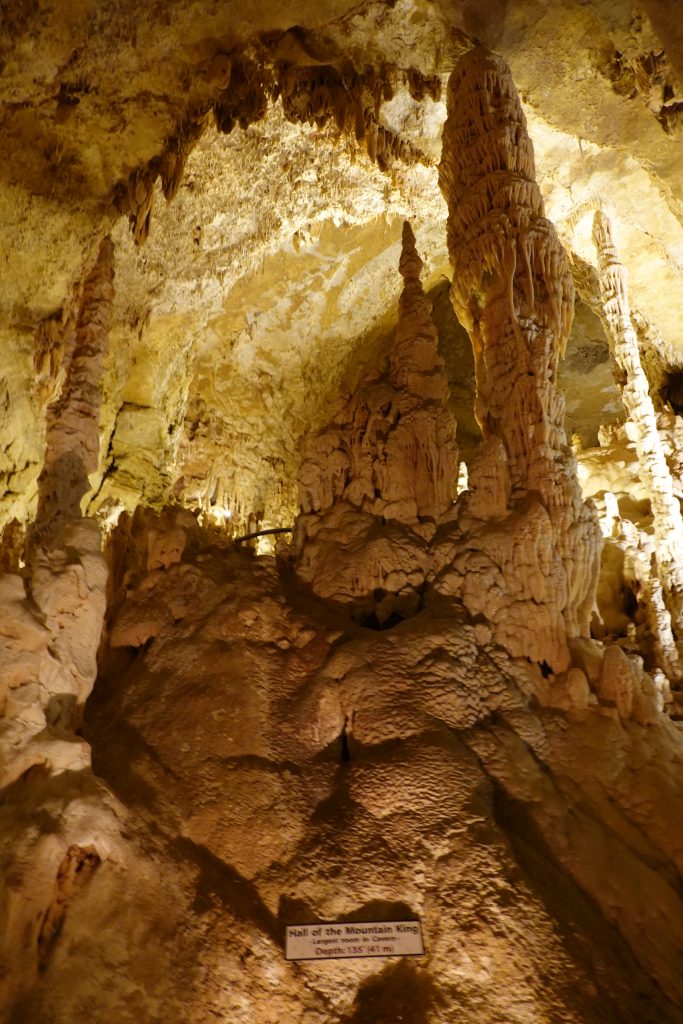 While these wonders will not likely ever be part of a public tour, the portion of the cave visible on the Discovery Tour is truly grand. With a little imagination (and sometimes more than a little) one can see familiar things in the shapes drawn by Nature. These are conveniently marked with labels to entice your imagination just a bit further. Among these is a chandelier in the Castle of the White Giants, the Valley of the Fallen Lords, a Bomb Burst (pictured here), and the King's Throne, which might remind one of something from Game of Thrones. There is even a Manger scene with the Three Wise Men.
The Hall of the Mountain King is the largest room in the cave, also at 135 feet below the surface (pictured here). It is a stunning 100 feet high, 100 feet wide and 350 feet long. It is Texas-sized!
Other signs are more grounded in reality, like the site where an 8,000-year-old jawbone of a black bear was found at a depth of 45 feet. Remains of native American Indians dating back 5,000 years were also found at this site. Emerald Lake, at 135 feet down, is especially impressive with its eerie green glow.
There is a trading post on site, and a zipline for those who prefer aerial thrills. I've visited caves all over the world, and I heartily recommend Natural Bridge Caverns as a must-see tourist attraction in Texas.
This is the first of a 4-part series on the caves of Texas and Arizona. The caves of Arizona will be published on the sister website SunNewsTucson.com

Photos with this article by C. Cunningham
Contact information:
tickets@naturalbridgecaverns.com
Phone: (210) 651-6101
26495 Natural Bridge Caverns Road
Natural Bridge Caverns, TX 78266
For a complete description of the cave you will see on the tour, visit this website link:
https://naturalbridgecaverns.com/school/NBC_Lesson_Plans/2010/GuidetoAccompanyTour_teacher.pdf