The year is 1904, and the place is Paris. Specifically, the Lapin Agile, a bar; in English, it means Nimble Rabbit.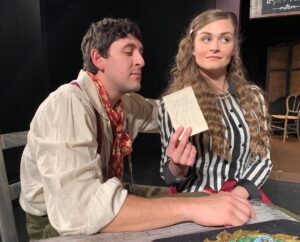 In 1904 Picasso painted a portrait of Suzanne Bloch; the character Suzanne in this play certainly refers to her. In this production, Suzanne is played with smoldering fascination by Holley Garrison. The following year, he created the painting At the Lapin Agile. It was the only work by Picasso on permanent view in Paris from 1905 until 1912, when it was sold to a German collector. It is at the intersection of these two artworks that we find the actor/comedian Steve Martin – the playwright – positioning the action of this 1993 artistic pastiche: Picasso At the Lapin Agile. It can be seen now in Austin thanks to The City Theatre.
It just so happens that Picasso is in the news now. Dora Marr was born in 1907; in 1936 she met Picasso, who painted her many times. However, she was not impressed by any of them (even though they are valued in the tens of millions now). "All his portraits of me are lies. Not one is Dora Marr," she said. Marr herself became a photographer; a collection of 750 of her photographs, including shots of Picasso, were auctioned on June 27. There was much excitement over this auction, as most of the photos were previously unseen and unpublished. For Picasso, Marr was little more than one in a long succession of women he painted and discarded. Suzanne Bloch was merely one of his early conquests, so it is important when seeing this play that her real-life role be placed in context.
On the play, I have to agree with a 2017 review in the Univ. of California (San Diego) publication The Guardian. "It sits in the awkward middle ground between a traditional theatrical performance and the self-aware extravagance of modern risk-taking theater; to attend this play and expect either is a mistake. Picasso neither pushes the boundaries far enough to excuse its one-sided characterizations of the main characters, nor takes itself seriously enough to follow through with its explorations of genius." Of course, serious character development is what one would expect from a serious playwright. Martin really is a 'wild and crazy guy,' so we can't expect Tennessee Williams.
In the play we have the unlikely pairing of Einstein (played by Timothy Allen, who actually looks like him) and Picasso (Joshua Nunez), and though this encounter never really happened, Martin uses them as foils to explore the intersection of art and science. At first, they duel (with pencils). Picasso says his work will touch the heart, while Einstein counters that his will touch the head. Picasso admits "the fourth dimension is the future," the very thing Einstein believes. By dreaming the impossible and bringing it into effect, they come to an understanding, hug, and reconcile. But Picasso being Picasso, he had to have the last word. "This is the day Einstein fell silent and listened to a conversation."
The two protagonists are ably supported by Garrison, Tom Swift, Wray Crawford, Anne Hulsman, Kyle Romero, Payton Trahan, Angelina Castillo and Sebastian Garcia.  This is a really entertaining and fun play. I noticed many people in the audience sporting big smiles throughout. Even though its exploration of genius does not have the depth one would ideally like, as one of the few plays that actually deals with science – and does so with humour – I recommend seeing it.
Copyright forbids me from showing you the painting At the Lapin Agile, but you can see it at this link:
https://www.metmuseum.org/art/collection/search/486162
For more on Marr and her photos at auction, go to this link:
https://www.theguardian.com/artanddesign/2022/jun/26/pablo-picasso-dora-maar-hidden-photos-talent-of-lover-muse?CMP=oth_b-aplnews_d-1
Picasso At the Lapin Agile is on through July 17, 2022, presented by City Theatre Austin. Thursday – Saturday 8:00 pm. Sunday 3:00 pm.
Trinity Street Playhouse. 901 Trinity Street, Austin.