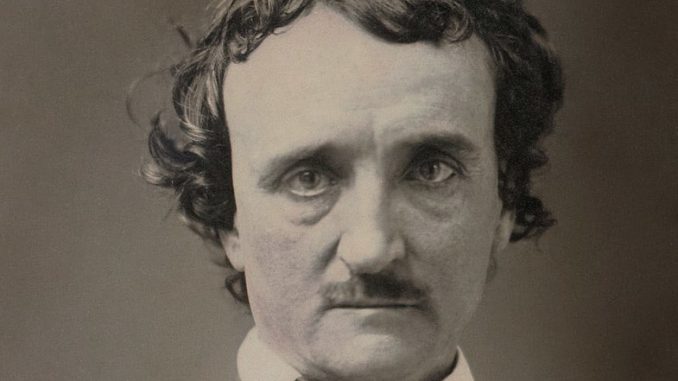 The title of this book is very provocative; one must read the subtitle to realise it is actually about America's great poet Edgar Allan Poe (1809-1849). More than just a biography, it relates how Poe was influenced by the emerging professional scientific world of the nineteenth century. When he was born the word 'scientist' had not been invented yet, but by the time of his myth-shrouded death America was laying the groundwork for the 'big science' that has dominated the world every since.
How does Poe's literary world interact with science? A small case in point happened in 1844, when he wrote a piece for the Evening Mirror, a newspaper published twice a day in New York City. The article described an entertainment brought to America by P.T. Barnum, in which seven men produced "delicious music" with bells of various sizes. Poe revealed the bells to be "ingenious pieces of mechanism" driven by the "power which operates in the Electro-Magnetic Telegraph." A battery under the stage controlled by a skilful mechanic secretly managed the whole performance. Barnum was loathed by the scientific establishment in early America, as he "encouraged his low-paying crowds to think that their opinion mattered in questions of scientific truth." In this, the hucksterism we live with today from the unwashed masses who think they can judge the wisdom of getting vaccinated is all too apparent.
Poe was very much against "conglomerate science" advanced by Emerson, who helped Carlyle with his first novel published in 1836. As author Dr. John Tresch (Prof of History at the Warburg Institute in London) notes, "he saw Carlyle's convoluted and moralizing style as a dangerous influence on criticism." Poe aimed to establish the grounds for a scientific analysis of art. To that end he wrote a "punishingly technical essay" on poetry, surely one of the least-read texts he ever wrote, and a far cry from what we most associate with Poe (namely, tales of horror). "Much like his contemporary scientific reformers," writes Tresch, "Poe tried to set politics aside to argue for a criticism that would be impartial and universal."
An example of Tresch's evocative prose comes from his description of Poe's Sonnet to Science, appended to his "multimedia artwork" The Island of Fay. Tresch writes "Poe was tilting the language natural science and natural theology a few degrees, until the metaphysical scaffold separating matter, life, and God began to collapse." Within the Island of Fay, Poe created 'pocket universes' that resembled other attempts of his day to grasp the cosmos in miniature.
Through a detective he created, named Dupin, Poe launched an attack "on the rising empirical and mathematical sciences. They weren't wrong, only narrow." Dupin voiced this approach by suggesting a purely rational approach to solving a crime could only discover facts hidden by an intelligence of a mundane sort. A criminal mastermind would always elude a plodding detective.
Poe's last masterwork was Eureka, but it was preceded by a work just as remarkable. The Domain of Arnhem had such an effect on John Lennon that he wrote it as Lucy in the Sky with Diamonds. "Read allegorically," Tresch writes, "it depicts the journey taken by the thinker who return with treasures from beyond the veil of ordinary experience; it presents artworks as technologies for transforming reality by repatterning matter, perception, and thought." The resonances with this and the thrust of much technology of the 2020s is quite scary – just what you would expect from the master of scariness.
Melding extraordinary insights into Poe's work with a thorough understanding of early 19th century American science, this is an important book for any historian of science, and also for literary historians who typically avoid the scientific for lack of full understanding. Such is the case for many other literary figures, such as John Milton, whose full understanding of astronomy was unappreciated until my own research was published. But one does not need to be a historian to find a wealth of treasures from 'beyond the veil' in this book.' Go buy it!
The Reason for the Darkness of the Night: Edgar Allan Poe and the Forging of American Science by Farrar, Straus and Giroux is $30.