All of those who attend the theatre are secure in the knowledge they have a place to call home. Few such people think the homeless also might have such a place.
In the play rain falls special on me (yes, all lower case) the anchor is a wheelchair-bound black guy (actor Stan McDowell) who calls home a space behind the stage of the theatre. In this case, the theatre is Ground Floor Theatre, and it is giving Austinites a hard-bitten look at what it's like to be homeless in tech city. Playwright Lane Michael Stanley writes "This is a slice-of-life play giving you a window into six very different lives forced together by circumstance. Some folks on the street have shared that they don't need to see this play – it's full of the boring, chaotic daily life they know too well." But, says Stanley, this play really isn't for them, it's for us: "a place to start conversations, questions, and internal, individualized work."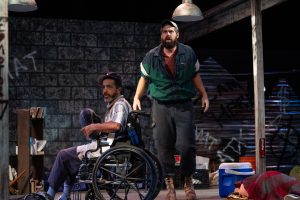 Like most modern plays it is a bit overlong. It has a point to make, and it ably makes that point. It would be more effective as a one-act production, about 20 minutes shorter. But the real problem here is the acoustics. The actors are not wearing mics, making much of their dialog very difficult or impossible to hear. My hearing is perfect but I lost about a quarter of the words. At intermission I asked a lady in her 30s what she thought of the Marine character (played by Devin Finn). She just said "Can't hear him."  And that was from the biggest actor on the set! The set is stark and has the ability to create rainfall on stage, which is quite inventive, but perhaps the lack of a covering over its top frame allows the sound to go up to the high ceiling, instead of outward towards the audience.
W.C. Fields said an actor should "never work with animals or children," presumably because they always steal the show. In this case the show is stolen by Roscoe the dog, an 8-year-old chihuahua mix. She is a sheer delight, never making a sound throughout – just looking cute and vulnerable. In real life she visits nursing homes as a therapy dog, and is trained and loved by Shari Heino.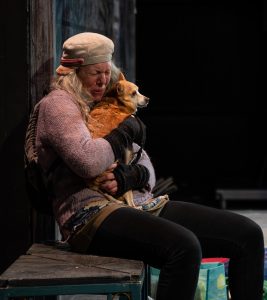 As you might expect, the banter between homeless people can range from the banal to the bizarre. One woman, Candace (played by the founder of the Wonder and Rye Theatre Company, Meredith O'Brien) asks "Do you know who the most famous homeless man is?" The answer, Jesus, is followed by her maniacal laughter.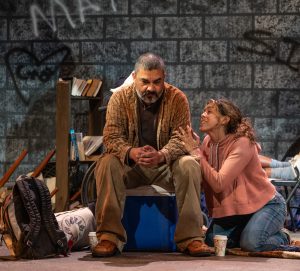 Another actress in the play, Juleeane Villareal, was deemed too pretty for the role by some audience members (of course, that is actually a compliment). But one said "She doesn't look like she just got gang raped!" Some ugly makeup was deemed to be the solution to that visual issue. The cast is completed by Steve Zapata and actor/magician Jack Darling. All the cast members have strong solo roles, and work seamlessly as an ensemble cast.
The most poignant exchange in the play is between the military guy and Candace. "Are your dreams real?" she screams at him. "No one's dreams are real," he responds. She counters with "Nightmares are." The homeless used to be the 'invisible" people, but no more. Their dreams are becoming a nightmare here in Austin, with tents popping up everywhere and a resulting civic struggle about how to deal with it. The play is a social commentary on many underlying issues, including the disconnect between the homeless and the police. If you like nitty gritty theatre, this one is for you.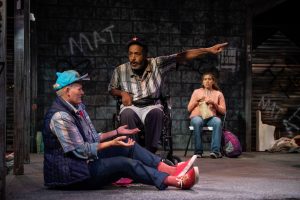 Photos by Cindy Elizabeth; scenic design by Gary Thornsberry; Directed by Patty Neff-Tiven

Ground Floor Theatre is at 979 Springdale Rd. The play runs through Sept. 4
Visit the website for tickets: https://www.groundfloortheatre.org/rain