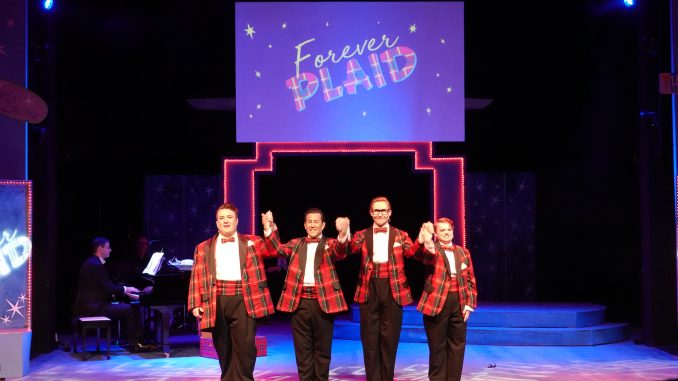 Even though Forever Plaid has never been on Broadway, this feel-good musical from 1989 is now a staple of theatre productions all over the world.
The Plaids in this production at the Georgetown Palace are: Jinx (Billy Gilbert), Smudge (Buddy Novak), Sparky (Sonny Bushak) and Francis (Wil Tabares). They are supported here by a fine 3-piece band: Jonathan Borden on piano, Lannie Hilboldt on bass, and Rob Fedson on drums.
This is essentially about a fictional 50s music group who died in 1964. Their chance to make it big was lost in the 50s, as evidenced by their brief 50s-style version of a popular Beatles tune, showing the drastic contrast in the music scene as one decade transitioned to another. In the play they come back from the dead to perform one last concert commemorating what was best in the 1950s.
Thus we get regaled by a suite of songs made famous by Perry Como, and such classics as Perfidia, Three Coins in the Fountain and Sixteen Tons. Even Scotland the Brave gets performed; always welcome for us Scots, but it's not exactly a 50s song! The high point was the 3 minutes and 11 seconds of the Ed Sullivan show, encapsulating the sense of the show by portraying in fast-faced comedic style most of the iconic types of acts Ed presented in his long-running variety program.
The biggest applause came as Smudge finally broke away into a solo rendition of Rags to Riches. It gave Novak a showcase for his voice and moves, which derived at least in part from Elvis. The fact Novak wears glasses like those worn by Buddy Holly, and the fact his first name is Buddy, are perhaps more than a curious coincidence. Great performance.
Each of the 4-man cast get their time to shine; Gilbert as a classically trained singer knows how to belt out a tune, and also is adept at comedic buffoonery; Tabares effectively portrays the leader of the group, who are reluctant to perform and forget their moves (not surprising since they are not alive!); and Bushak adds the needed dash of boyish appeal that so typified 50s boy singing groups.
Someone in the audience said that although it was not technically feasible at this venue, the ending would have been enhanced if the four guys had ascended (with wires) to the sky at the end of the show.
That aside, this is a vastly enjoyable trip to nostalgia land; there were some kids in the audience, but for the majority who were 65+ is was a brief but welcome return to youthful times. With excellent casting, Forever Plaid is well worth seeing, and most of all, listening to.
Photo by C. Cunningham; left to right: Gilbert, Tabares, Novak, Bushak
Forever Plaid runs thru Aug. 18, 2019
Visit the website for tickets: GeorgetownPalace.com