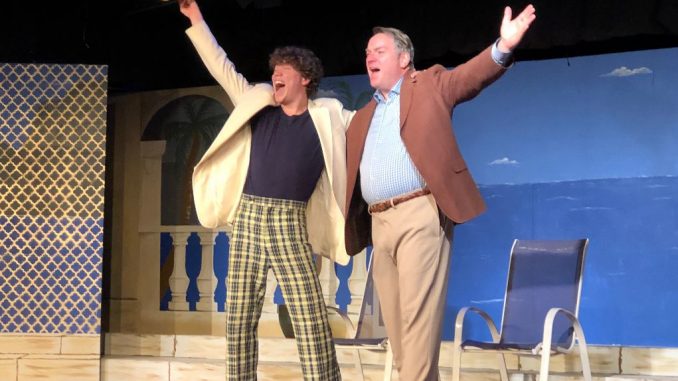 Dirty Rotten Scoundrels has a long pedigree. The 1964 film Bedtime Story was remade in 1988 as Dirty Rotten Scoundrels starring Steve Martin and Michael Caine. The stage musical, which is now being performed at the Hill Country Community Theatre near Marble Falls, saw its Broadway debut in 2005. It was nominated for a Best Musical Tony award, but lost to Spamalot.
The play inherently has a flaw that it shares with several other productions: it is too long (close to 3 hrs with intermission). If you feel one should not tamper with artistic expression, consider the fact that many Shakespeare plays are produced in shortened versions. If the greatest playwright of all time can be subject to judicious cuts, the creators of this play (David Yazbek, music & lyrics; Jeffrey Lane, book) can hardly be exempt.
Fortunately the two lead actors in this production are a great delight to behold on stage: the young Clayton Brooks as the conman in training, and Seth Smith as Lawrence, the Prince of con men. Their chemistry is spot on, which is the critical factor needed to make the play a success. With physical antics that would make Jerry Lewis proud, Brooks dances, contorts and bedevils his way into the hearts of the audience; a bravura performance. Smith exudes the savior faire of a Mediterranean playboy, equally at home playing roulette or playing the harp of mock love. His persona reminds one of Simon Templar, but in this play he is no Saint, as we him swindling silly women out of their money.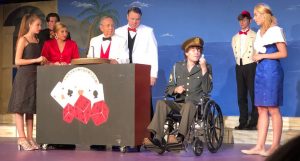 Freddie and Lawrence meet their match in Christine, but unfortunately the production nearly meets its match here too. Gillian Goff, despite putting on a fine act, has a singing voice that is too weak and tentative to tackle the role.
Best to concentrate on the two lead actors, who are supported by a 10-person cast including Kim Fehlis, delightfully engaging as a pistol-packing Okie. "There's something to be said for a bit of chaos now and then," says Lawrence, who describes Freddie as "deliciously low." In fact Freddie is so low he descends to imitating a wheelchair victim to swindle Christine out of her soap heiress fortune. His malady? "I'm afraid what I have is dance fever." The laughs, combined with bouncy lyrics in many tunes (especially Love is My Legs), make this musical a fan favourite.
Second photo caption: Gillian Goff (r) with Brooks in a wheelchair. Smith is at centre in the white jacket & red bowtie. Photos by C. Cunningham
Dirty Rotten Scoundrels is on stage through Aug. 4, 2019.
Visit the website for tickets: www.theHCCT.org