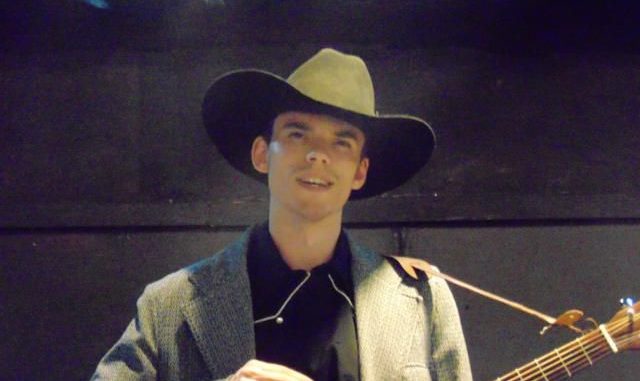 I have never been a fan of tribute concerts, mostly because I have seen nearly all of the original performers who are the inspiration for such things. Why pay to see someone impersonate Ella Fitzgerald, Johnny Cash, Frank Sinatra, Cher or Barbra Streisand when I was fortunate enough to attend one of their concerts?
Even though the play Lost Highway is not billed as a Hank Williams Sr. concert, it does include virtually all of his iconic hit songs, and for once I did not mind a bit that Old Hank was not actually there because it felt like he was. When I told Michael Vybiral that he was able to "channel" Hank in his performance, he said that was potentially a dangerous thing. Quite true, but I don't think he's in any danger of being possessed by the demons that led to Hank's death at age 29. Rather, he has embodied in both voice, looks and mannerisms all the characteristics we fans of real Country Music still hold dear even though Hank left us in 1953 – before me and most other admirers of his music were even born. Like other great performances I have seen, such as Richard Burton in Camelot or Patrick Stewart paired with Ian McKellan in Godot, this is casting from heaven.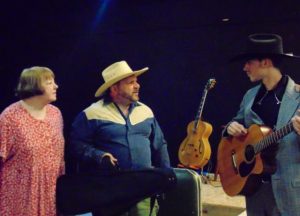 But there are other stellar members of the cast. Oliver Johnson plays Tee-Tot, whose real name was Rufus Payne (1884-1939), the African-American singer who taught Hank to sing the blues. Williams took that heritage, fused it with hillbilly and folk, and thus forged the most stellar career in what we now call country music. The hillbilly heritage of country music that went way back too was forged by Mother Mabel Carter (1909-1978; yes, I saw her too). Johnson lends his tremendous voice to a subtle secondary role, very important to the story, without overwhelming or distracting from it.
The third strong characterisation is delivered by Karen Hogg as Hank's mother, whose interplay with Hank's wife (played by Ashley Fouse) begins with a delicious catfight. Some members of the audience were struggling with the selection of a female to play one of the members of Hank's band. While it worked (Lisa Garza offering a fine performance), it did seem curious to some that a man was not cast in the role.
Of course there were two central characters in this play: Hank and his songs. Among the hits we get to hear are Honky Tonk Blues, I Can't Help It If I'm Still In Love with You, On the Bayou, Move It On Over, Lovesick Blues (his first No. 1 hit, from 1949), I Saw the Light and I'm So Lonesome I Could Cry.
Williams' downward spiral, which included too much drinking, is not whitewashed in this play by Randal Myler and Mark Harelik. It just reminds us of how many great performers we have lost to substance abuse. Despite the tragic ending this is very fine musical theatre that should not be missed, well worth the 80-minute drive from downtown Austin.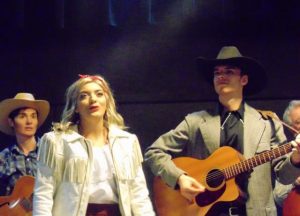 The venue for the play in Bulverde includes an area for home-cooked dinner and dessert. It is a nice touch that offers an area for camaraderie before the play. The night I attended most people in the virtually soldout performance enjoyed this fine meal.
Lead photo: Michael Vybiral
Second photo: (l to r), Karen Hogg, Michael Waite, Vybiral
Third photo: (l to r) Lisa Garza, Ashley Fouse, Vybiral
Hank Williams: Lost Highway (directed by Lou Garza) is being performed until July 28. It is presented by S.T.A.G.E., Inc.
Visit the website for tickets: stagebulverde.org; pre-dinner show is only $10, with the option of just having dessert or the salad bar.
Michael Vybiral leads a jazz-rock band, Salubrious Fox, whose inaugural album was released in 2018.