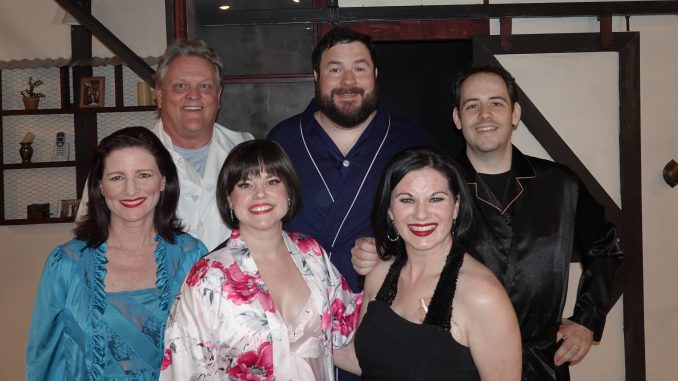 English farce is a highly respected art form, but the play Don't Dress for Dinner presents it with a twist of lemon: it was originally written for the French theatre. This English language adaptation of the 1987 original by Marc Camoletti thus focuses not on murder, as an English play would be wont to do, but on infidelity, which is so very Parisian.
The complex web of misunderstandings is so convoluted that no review can be accused of including spoilers. In that it resembles some Agatha Christie plays, but again I digress to murder. The audience certainly feels like murdering at least one of protagonists, as their cloying fantasies multiply so fast that one feels like being at a carnival in one of those rooms filled with mirrors that distort reality.
However it is all done with such innocent humour and a genuine attempt to shield the guilty parties from any sense of hurt that it saves this play. It skirts the fine line between a screaming match and fine delivery, but always falls on the fine side of that line. The ensemble cast of six delivers a production that audience members I talked to characterised as "darling" and "very cleverly written."
Even though this is an English adaptation, it includes one very French character, Suzette, played by Lorri Boyd. At one point her character rightly says "I should get an Oscar for this." Her on-stage wardrobe change from a provocative maid's outfit to cocktail dress should also get the Oscar for best costume design. She is not exactly a sophisticated member of Parisian society, ("I can drink all my lovers under the table"), but she can cook.
How the plot gets cooked is another matter. We have the married couple, played by Beth Burroughs and Jake Maspero. An example of their rapier wit: "She's not my woman!" "What is she, a pet parrot?" Then we have the husband's best (and easily manipulated) friend played by Clint Cox who gets tangled in that web I mentioned. Marsha Sray plays the husband's secret lover, and Dana Barnes is the husband of the French 'lady.'
This parlour game of marital shenanigans, which had a run on Broadway in 2012, is a delight thanks to a marvellous cast who clearly enjoyed themselves. If you are in the mood for some harmless fun, head to Georgetown where you can find this gem at the Palace Playhouse, right around the corner from the main Palace Theatre. This smaller theatre space, with seats on three sides of the stage, has been operating since last November.
Photo by C. Cunningham: The cast of the play posed for this exclusive photo for Sun News Austin.
L to right in back row: Dana Barnes, Clint Cox, Jake Maspero. L to r in front row: Beth Burroughs, Marsha Sray, Lorri Boyd
Don't Dress for Dinner can be seen through April 21. Consult the website for tickets: www.Georgetownpalace.com