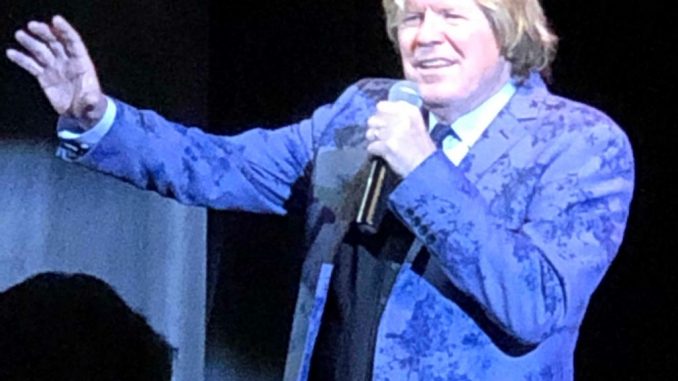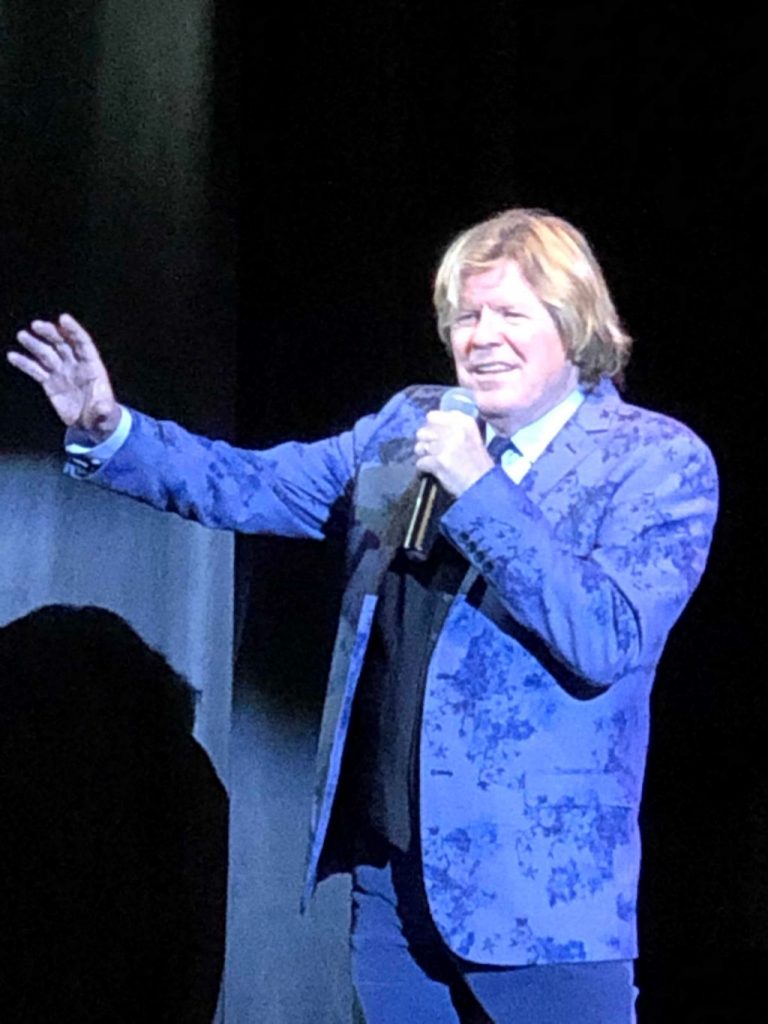 For a rollicking good time, there is nothing better than a Herman's Hermits concert. The carefree persona of lead singer Peter Noone, an original member of the band from 1964, has remained constant for 55 years (he is now 71).
"When we first started, we came to Austin," Noone said. "There were teenage girls waiting for us at the airport. This time we were met by a couple of geezers." Noone joked that "we still get underwear thrown at us, but they're bigger now. We collect it and send it to our troops in Iraq. A good pair will cover a tank. Sometimes we get men's underwear so you can stick the turret of the tank through it!"
Noone and his four band members, who were not part of the original Herman's Hermits, played most of their hit singles, delighting a crowd at One World Theatre in Austin. This included such iconic 60s tunes as Silhouettes (which he described as "a really beautiful song"), Listen People, There's a Kind of Hush, Mrs Brown You've Got a Lovely Daughter (the title of a 1968 the group appeared in) and Henry VIII. During that song the band was joined by a young lad in the audience who is the son of one of Peter's friends. Noone gave him a Herman's Hermits album from the 60s, but not before holding it up in front of his face for part of a number. What the audience saw then was a photo of Noone from the early 60s.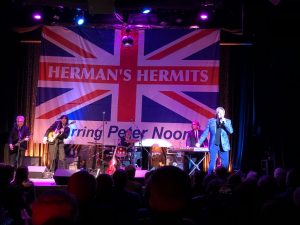 He made fun of his appearance now by relating that some people mistake him for the actor Nick Nolte. "I'm just waiting for the day I'm mistaken for Newt Gingrich," he quipped.
In addition to his own great series of hits, which sounded just the same as he has maintained his voice quite well, Noone and the band played cover tunes of other great artists from the 60s: The Monkees, Tom Jones, The Beatles and The Rolling Stones. The oversize British flag behind the band was a reminder to all that they were seeing a major factor of the British Invasion right here in Austin. The band outsold The Beatles in America, racking up more than 80 million album sales. In 1965 the song Henry VIII (originally written in 1910) became the fastest-selling single in American history.
For Herman's Hermits, the sun has never set. It is still high "Noone."
There are many other classic performers set to appear at One World Theatre in the coming months, including Jim Messina on Feb. 7, B.J. Thomas on Feb. 17 and Crystal Gayle on Apr. 12.
Visit www.oneworldtheatre.org for details.
For info on future shows and memorabilia from Peter Noone, visit the website: peternoone.com
Photos by C. Cunningham