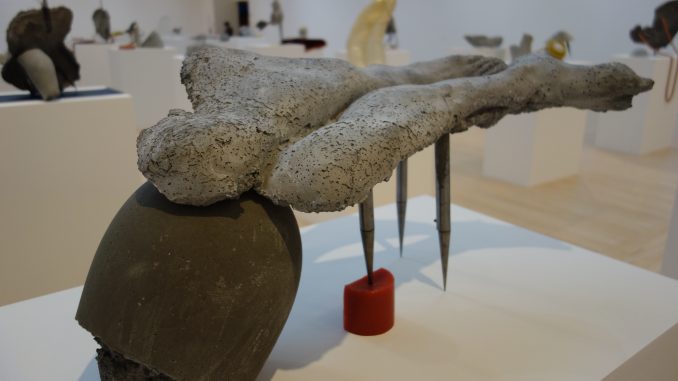 Visceral emotions are the order of the day when viewing an exhibit at the Henry Art Gallery in Seattle. Entitled Castoffs, it is by Martha Friedman, director of the Program in Visual Art at Princeton University.
The exhibit is in a large white room with a high ceiling, with the appropriate clinical feeling that evokes. Displayed on a series of white pedestals are male body parts. Not the real ones of course, but concrete pieces sculpted from her male model, the dance choreographer Silas Riener, who visited the exhibit in December 2018. Various fragments are accompanied by metal armatures and spikes, leftover scraps of rubber tubing and sheeting.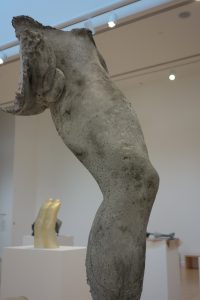 A description of the exhibit states "the works evoke a yearning to interrogate classical expressions of sculpture that reify the body as a cohered, discrete form." Not very helpful as I'm sure very few people know what reify means; the dictionary says 'to make something abstract more concrete or real.' And by classical I believe the artist is inspired by male sculptures of ancient Greece, which portray the male body as a perfect form.
I talked to someone who has seen the exhibit several times. As time went on, he found it "increasingly brutal" but strangely he was also "constantly invigorated by it. When I first went through it, I remembered thinking of it as the reverse male gaze. Normally art is created by a masculine eye looking at something, but here we have a female looking at the male body inside out. Each piece shows the male body being recreated with industrial imagery."
This is, more than most exhibits, an internal experience for the viewer. Those with a weak stomach might want to avoid food for several hours before and after.
Castoffs runs through Feb. 10, 2019. The Henry Art Gallery is on the campus of the University of Washington. Visit www.henryart.org