Not far from Austin Zoo lies the Texas Honey Bee Farm, nestled in a wooded area close to Cedar Valley. I visited there recently for a honey tasting (available in the gift shop) and an interview with Master Beekeeper Tanya Phillips.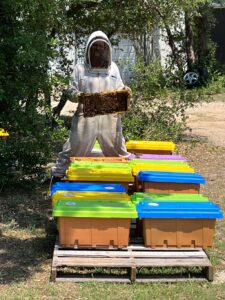 "It used to be called Bee Friendly Austin. I started keeping bees 11 years ago. I just wanted something really simple, only one hive. My husband started reading and studying on his own while I was taking a class, then we took our class together. We were so on fire, wanting to have bees!" Phillips used her existing location to begin the bee farm.
"After studying we realized we didn't want to start with one, we had to start with two or three. I told my husband, you have to build the hives, so I ordered three packages in the Fall but they didn't arrive till May. In the meantime we were looking for bee clubs to join and I found out about master bee keeping. The first place we went to for a bee meeting in Georgetown. A guy came up to the mic and he said 'I'm too old to be keeping bees and I've got these bee hives in Manor that are full of honey. I'm going to sell them for only $200 a piece.' So my husband said I'll take two, and I said What are you doing? We already ordered three packages. Now it's going to be five: it's starting to be work! We both still worked full time and I would be gone a lot. While I was away he would get calls for bee removal, and I'd come back to five more hives! The two we got from that guy were both Africanised hives – they were super mean. We named them Kujo and Medusa."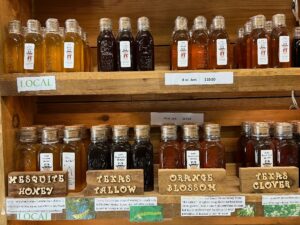 Education has become a major element of her work. "We started a non-profit when I began to learn about colony collapse disorder, trying to educate people. I said, if bees are dying what we really need is for everybody to have them so that you're not driving them across the country to pollinate – just keep the bees in our own neighbourhood. If I start teaching everybody how to do it right, then they will start keeping bees right and we'll save the bees. I did a master bee keeping course online through the University of Montana about 8 years ago; the next year Texas got a master beekeeper program so I took that as well."
My bees have been in the Superbowl, and the State Farm commercial. We were always doing everything for free, but my husband (who died 2 years ago) decided we needed to start charging for our time. In Texas if you have between 5 and 20 acres you can do beekeeping as an agricultural activity on your property, and reduce your property taxes. So now I supply others who need bees; one fellow is picking up 12 hives soon. I have seven different yards, some have teaching hives, some have honey hives."
Phillips has mesquite and wildflower honey from her own farm. The other honeys she has for sale are sourced from another beekeeper. The gift shop has many other bee-related things for sale, for be prepared to shop! Towards the end of June small quantities of honeycomb are available in $9 and $11 sizes.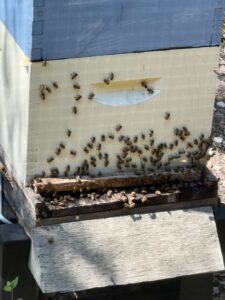 This is now THE place to go to attend classes, which will start again in September through November, then resume in Feb. 2023. "I used to have 30 or 40 people in every class but when Covid hit it went down to 9. Now it's about 16 people. We do two 101 classes a month. It teaches you everything you need to know to have bees, you just don't go hands-on. The 101 class is about $90, while the more advanced 201 class is roughly $170. In the 101 class participants don't have to put on a bee suit; but in the 201 class they do, with no more than 6 people per instructor. Each student takes turn on going through a hive on their own."
A beeautiful spot, the farm is a great place for people of all ages to learn about bees. They have an "on the Spot" tour for $10 (or $5 for children). A step up is the Private Hive Tour for $100; and the deluxe experience for $300 lets you get up close with a working hive. Details are on the website: texashoneybeefarm.com
Visit the Texas Honey Bee Farm:
MONDAY Closed
TUESDAY Closed
WEDNESDAY 10 am – 6 pm
THURSDAY 10 am – 6 pm
FRIDAY 10 am – 6 pm
SATURDAY 10 am – 6 pm
SUNDAY Closed
Tel: 512-763-2229
Address:
9874 Wier Loop Circle
Austin, TX  78736