Crimes of the Heart, (made into a film flop in 1986) won the Pulitzer Prize in 1981/82. It was originally a three-act play, here performed in two. It transferred from the Manhattan Theater Club to Broadway in 1981, received a major Off Broadway revival in 2001, and another in 2008. I recently saw it performed in Lockhart, at the Gaslight-Baker Theatre.
I have to agree with a review in Chicagocritic.com, of a different production of this play. He wrote that he could not understand why this play won the Pulitzer, as it is not outstanding. "It fails to sustain over two hours of various groupings and bulky conversation," he wrote.
Let me say at the outset that this is no fault of the actors, who were clearly more talented than the script allowed.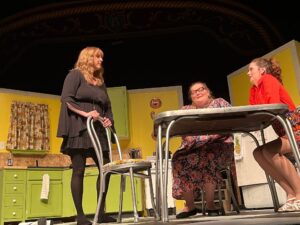 The play revolves around 3 sisters: Meg (played by Rachel Jenkins), Babe (Leah Pullin) and Lenny (Rebecca Smootz). Lenny is the sensible but lonely one, Meg is a wanna-be singer/actress and Babe enters the play straight from jail, currently being charged with shooting her husband. Since all are losers in one form or another, there is not much uplifting dialogue here. One would think that in this dynamic the playwright would have peppered the play with zingers and memorable one-liners, but there are none. Do not think that just because we have three women interacting that this in any way resembles The Golden Girls.
I found the fourth cog in the wheel to be the only delightful role. This is the cousin Chick, played to the hilt by Francine Olguin. Her hand gestures (evident in the accompanying photo) combined with plain talk and gossipy lines were combined perfectly by Olguin. Kudos to the costume designers Liza Collins and Tammy Francis who gave her the best outfits. The cast is rounded out by Tyler Spillman as Barnette, the lawyer representing Babe, and David Young as Doc, who still holds a flame for Meg. Both actors were entirely right for their respective roles.
I spoke to a woman in the audience who specifically attended the play that day because it was her birthday. This was, in fact, the very first play she had ever seen! "I enjoyed the experience, it's a new venue of entertainment I look forward to exploring," she told me. But, she admitted, "It wasn't what I was expecting."  She deserved a better introduction to the theatre. The play ended quite abruptly, with no definitive conclusion, which I found disconcerting. It's not possible to give away the plot, since there really isn't one, but as a glimpse into what was popular in the early 80s it can't be beat.
Crimes of the Heart ended its run at Gaslight-Baker Theatre on May 14, 2022
Lead photo: Olguin (l) and Smootz
Second photo: (l to r): Jenkins, Smootz, Pullin