"There has never been a better time to work in transportation.  There has never been a better time to be the U.S. Secretary of Transportation." So declared Pete Buttigieg at SXSW, who now has his dream job (maybe his other dream job, President, will happen someday too).
He attributes this ideal time largely to Pres. Biden's 1.2 trillion dollar infrastructure bill, passed in 2021. But he warned that even such a large sum "could get sprinkled out without us feeling enough impact or effect unless we prioritize."
He said the priorities he has in mind are five: safety, economic development, climate, equity and transportation. Safety, he explained, is the reason the Department of Transportation exists. Reducing roadway fatalities, for example, is one thing we are going this money toward.
On economic strength, Pete said "The president if very focused on making sure the U.S. is positioned to win this century – to compete with any other country." He lamented that this country has skipped the last 40 years when it comes to this key component. This includes such things for the near future such as "working on the electric chargers, laying of the rail track, and all of things that actually go into creating the improvements on roads and bridges, rail, and airports."
On climate, he said "every transportation decision is a climate decision, whether we recognize it or not. In the U.S. economy, the biggest sector in terms of contributions to greenhouse gas emissions is the transportation sector. That is a challenge for us to be the biggest part of the solution."
His fourth priority, equity, deals with making sure everybody benefits. "So many communities can tell stories of how an infrastructure decision made in the 50s or 60s chewed up a minority neighbourhood or divided a white from a black neighbourhood. The very phrase 'wrong side of the tracks' is in our vocabulary for a reason. Infrastructure can and should connect but sometimes it divides."
"I think the 2020s will probably be one of the most transformative periods we have ever seen." On this fifth priority, Pete mentioned electric vehicles, automated vehicles, drones, and even commercial space travel. "We have an opportunity to prepare the way to make sure the development of these innovations benefits us in terms of public policy."
In the infrastructure bill, Pete said he "is very excited about the electric vehicle provisions, including charging stations. We will be setting up a network of 500,000 stations. But even if every car out there is electric that's not enough. We're working on sustainable aviation fuels and are part of several international agreements on shipping. Pound for pound moving something across the ocean is one of the least carbon intensive ways to do it. On the other hand, there is so much of it that goes on we have to worry about the fuel oil those ships burn: it is so dirty, so that technology needs to change."
There are many challenges ahead, including a realistic appraisal of the climate impact of electric vehicles (EVs). On important thing that has been conveniently overlooked is the energy-demanding process of making anode-grade graphite for car batteries. "Around 75,000 tonnes of graphite is required to create 1 million EVs, meaning that 900,000 tonnes will be required to meet the 12 million EVs that will be produced by 2025," according to a 2021 report by Minviro. The firm found that the calculated global warming potential (GWP) values for producing 1 kilogram of anode grade graphite are 800 to 1,000% higher than the commercial database value for natural and synthetic routes, respectively. Mayor Pete has his work cut out for him!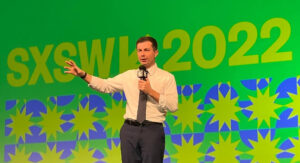 Photo copyright SunNewsAustin.com