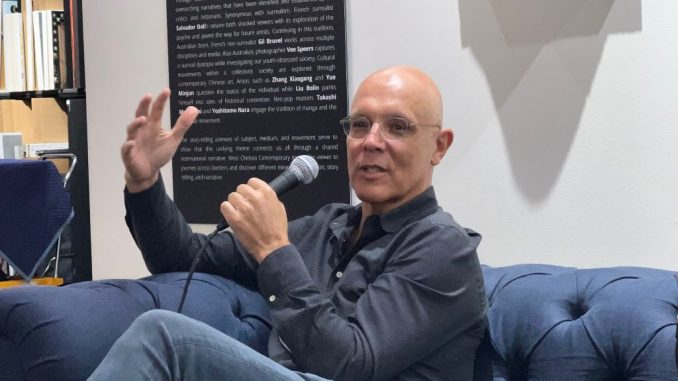 Texas-based artist Gil Bruvel made a special appearance last week at Austin's finest art gallery, West Chelsea Contemporary. In an interview with owner Lisa Russell, he expounded on the philosophical underpinnings of his artwork.
"I started to learn drawing when I was 9. It was never an issue to be an artist from a very young age. The philosophy I've had is more like an urge, to create artwork. I've always been fascinated by the visual aspect of it. I started to become interested in history, and French literature – they would create imagery in my mind. I feel that really formed what I am doing now. It is a continuous evolution. I always thought being an artist as a platform to continuously learn and evolve. The process of evolution for me got me interested in how the mind functions and eventually I practised meditation. I got into a phase where I learned Sanskrit that enabled me to read philosophies. I realized when I was able to slow down and become the observer of this constant radio noise that the mind produces I could reach layers of the brain/mind/spirit that gave me access to all these imageries that was I carrying within myself.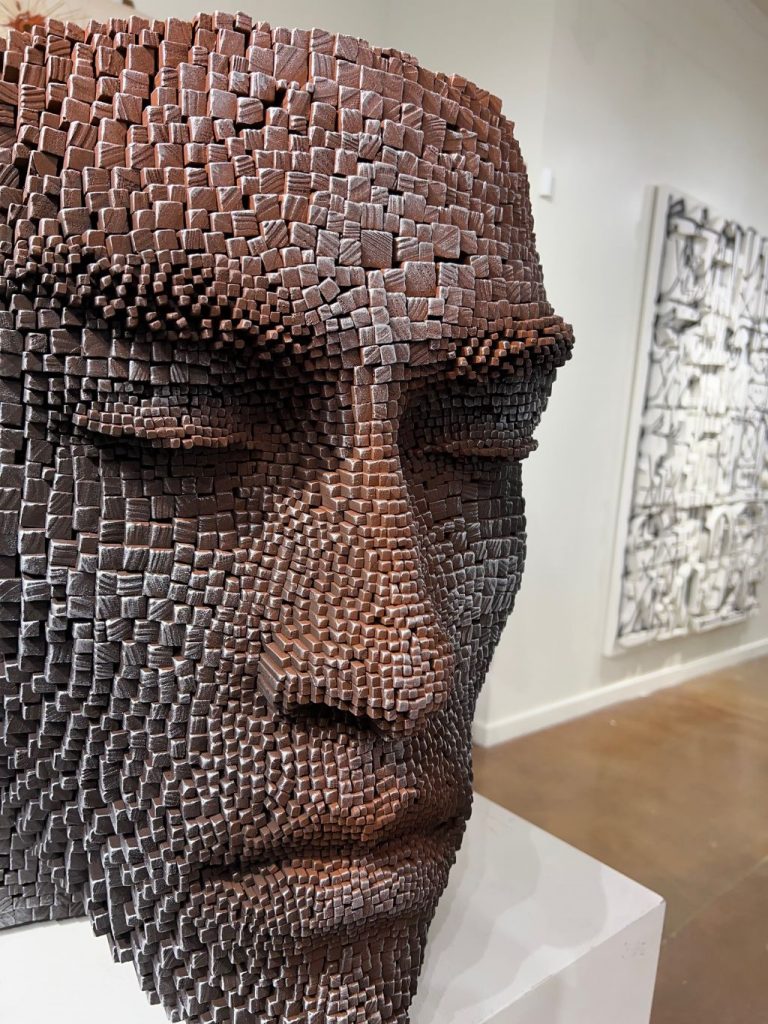 "Just at the border between France and Spain is where Dali used to live. I started to train at the age of 14 in a restoration workshop. The first field trip we did was at the Dali Museum there. That was a major revelation to actually see the work in person. I was familiar with the members of the Surrealist group and felt there was a parallel between the way I was thinking and the way these artists were expressing themselves.
"I became really good at copying a life portrait or an Old Master, a landscape or a still-life but I would literally hit a wall when it would come down to having all these ideas I had in my head that leaned towards the surrealistic, disjointed type of thinking. In this crisis I had a classic dream that you read in stories that actually happened to me. At the time we were studying the 15th century techniques; there was this famous artist Van Eyck. So in this dream, I was with him in a room and he was showing me all this incredible artwork. I was absolutely blown away by the artwork. So at the end of the tour, he said, well you did this work and it's really simple. The best thing for you to do is to come back into this room and pick up a painting and you pick up an easel and you copy it. And he said, you see this door over there, you can open it up and there are many other rooms with a lot of your work, and if you want to open it up you are free to do it. That's what I've been doing every since. I realized that the mind is capable of creating these loopholes to stimulate creativity, and there are no real rules how to get there. That did coincide with a time I started actively start a form of meditation that really pushed it to the next level for me – a very structured technique that opened up multiple layers and ways to be more creative, and be able to express it."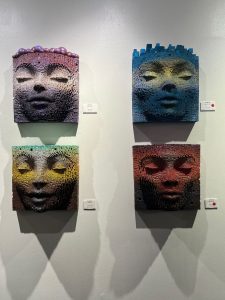 The artworks on display at the WCC, he explained, "are mostly composed of woodsticks, glue and nails. Then I burn these, brush them off, and paint them so its really an uncomplicated process. I involves a very good understanding of facial features and ow to infuse these features with what I'm trying to express which is the message of being centred. We live in a pretty disjointed world. I started these sculptures with the intent of telling people we can centre ourselves and can find serenity and some form of equilibrium.  But equilibrium is not static, it is a function of nature that requires a lot of energy."
West Chelsea Contemporary is located at 1009 W. Sixth St., Austin.
Photos by C. Cunningham