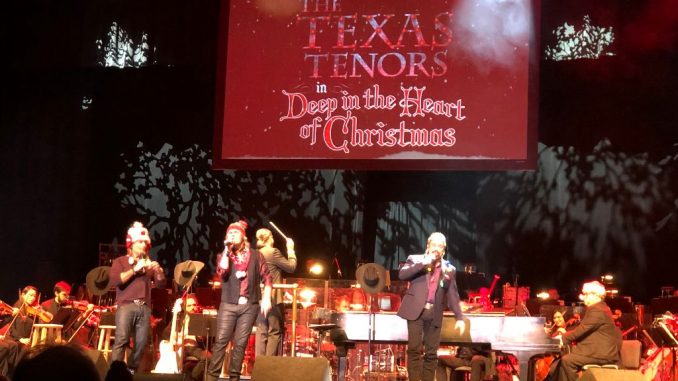 The Texas Tenors have been entertaining audiences for 10 years, and did so again at the Tucson Music Hall in a concert largely devoted to Christmas music.
A better choice would have been a concert entirely devoted to it, as its title was Deep in the Heart of Christmas. For example there was a stirring rendition of God Bless the USA, prompting the near capacity audience to stand up. It was especially welcome they mentioned not only the veterans of the United States, but those of Canada as well. These days it's best to keep ones friends close.
But as one member of the audience told me, "everyone standing and being respectful was fine, but it's a bit ironic because if people had a conversation about their political views now, they couldn't come together at all." How many there would view their fellow citizens as traitors? This question must have been asked many times by those who lived in the last months of the Weimar Republic. Yes Virginia, Republics too can be transformed into dictatorships.
Another audience member said he was surprised at the prevalence of gospel and religious music in the concert. This included the songs Mary Did You Know and What Child is This?, which the Tucson Symphony Orchestra also played during the concert as part of a Christmas medley. Lovely music, but two versions in one concert? They also delivered a creditable version of Amazing Grace, but it was not spine tingling as I have experienced with some renditions.
Their delivery of O Holy Night was superb, inspired by one them telling the audience he remembered this song as a little kid, playing a Johnny Mathis version on his grandmother's record player. They also said the song means so much as they sung it at the White House for the lighting of the National Christmas tree a few years ago. This is my Favourite Time of Year is a song inspired by how one of the tenors felt as a kid. There aren't too many new Christmas songs, they said, and this one was especially welcome.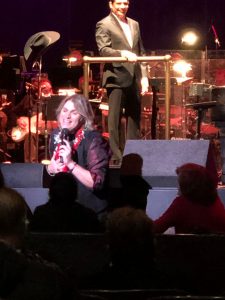 The Tenors (Marcus Collins, John Hagen, and JC Fisher) mentioned their 10th anniversary, saying that they were one of just 50 groups invited by America's Got Talent for a special event in Los Angeles this year. That is the TV show that launched their career, when they won in 2009. This is shown in video clips of their appearance, which some present at the Tucson event regarded as "a little self-congratulatory."
Having not seen them before, I was expecting the Tenors to look like what is pictured on the front cover of the programme, but that image must have been taken close to a decade ago. While their voices still harmonise beautifully, the passage of time has seen sagging jowls and graying hair. I winced when they included a clip of Talent judge Sharon Osbourne telling one of three guys (in 2009) that he is hot. Like songs of patriotism, best left out of a Christmas show.
Highlight of the concert was not a Christmas song but You've Lost That Lovin' Feeling by the Righteous Brothers. This 1965 hit, they told the audience, "was the most played song on the radio in the 20th century." They interwove clips of Bill Medley from the sixties duo singing portions of the song, and concluding with a video of the Righteous Brothers performing the song with the Tenors. Even though the message of the song is a downer, it got the greatest audience reaction of the night.
The Tucson Symphony Orchestra did their usual impeccable job, both supporting the Tenors, and performing their own instrumental solos of The Christmas Song, and Sleigh Ride. Conductor Jose Luis Gomez took great delight in clapping the woods together during Sleigh Ride, a task usually assigned to someone at the rear of the orchestra. It was a nice flash, and a very fine performance overall.
The Texas Tenors conclude their 2019 concert tour tonight in Tucson. Visit the website for tickets:
Tusconsymphony.org