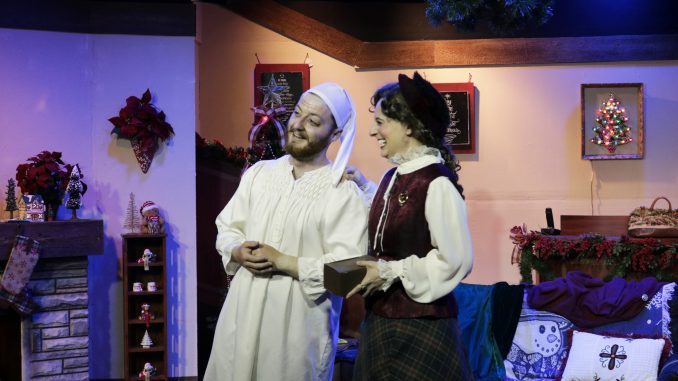 What could be more appropriate than a play entitled Dashing Through The Snow just before Christmas? The title is the only appropriate thing about Dashing Through The Snow. Inappropriate is the order of the day in this crazy play, which is what you might expect from a tiny Texas town called Tinsel.
This madcap play, performed at the Arizona Rose Theatre in Tucson, hits all the wrong notes in the best possible way. A sheer delight, the anchor for the play is the Snowflake Inn and its owner Teresa (played by Trina Wolcott). Various lunatic guests from Dec. 21 through Dec. 24 parade through the lobby of the Inn, giving us four separate plays within a play.
In this milieu each audience member will have a favourite character. Mine was Ainsley, played by Daniel Hagberg, whose send-up of Shakespearean dialogue was a sparkling delight. Broad farce, such as Blackadder, is especially appreciated by us Englishmen; here Hagberg takes on the role of a Shakespearean actor who riffs off his acting cohort Lenora (played by Diana Ouradnik) to perform Dicken's A Christmas Carol in 60 seconds! If only bad plays could be so concise! Brilliant overacting by both.
The role playing couple who open the play set the tone for Christmas, as Mrs. Claus decides to step out on Santa with one of the elves. They two are actually married, a pair who have been killing themselves by trying to add spice to their marriage for years. But in this happy season they realise their marriage never went flat. "Thinking we've been doing this all these years is the most romantic thing I've ever heard of," the wife says.
In a scene that brings to mind Mama's Family with Vicki Lawrence, two feuding aunts add real spice to the Christmas punch. Ennis (Annie Koepf) calls Della "a slack-jawed old tortoise" and Della (Regina Ford) calls Ennis "a mummified harlot." One woman in the audience told me her own family get-togethers bore some resemblance to this!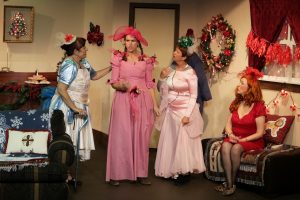 All hell breaks loose in the final skit, with Honey Raye (Anne Butman) preparing to get married on two hours' notice to her former husband. In this she is supported to varying degrees of disdain by her sisters, one of whom he needed to exercise more says "If God had wanted me to touch my toes he would have scattered diamonds on the floor." With lines like this, which could have come from Eva Gabor on Green Acres, the audience is transported to a Christmas day of sublimity that can only come from the heart of Texas.
Dashing Through The Snow (directed by Stephanie Howell), was a superb 2019 closer for the Arizona Rose Theatre. Next up is The Complete Works of William Shakespeare abridged, from Feb. 29 to Mar. 15, 2020. The season ends with Into the Woods from Apr. 18 to May 3.
Visit the website for tickets: www.arizonarosetheatre.com
Lead photo: Hagberg and Ouradnik