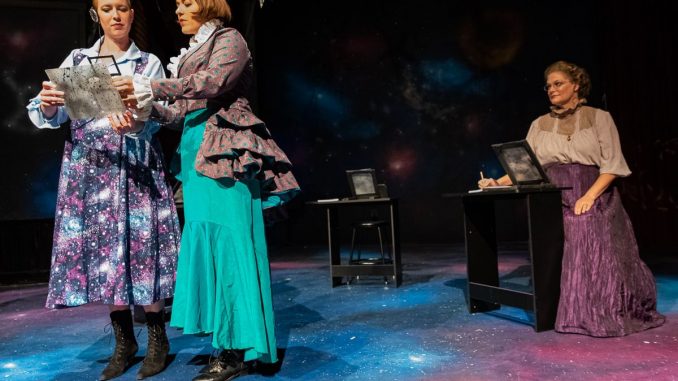 A play about astronomy does not at first blush capture the imagination, perhaps because most people associate astronomy with mathematics. Silent Sky by Lauren Gunderson breaks free of these inhibitions, focusing on the real-life struggles of Henrietta Leavitt (1868-1921), one of the three or four most famous female astronomers of the 20th century.
I say real-life, but since this is a play it naturally takes liberties with reality. She did have 2 sisters, Mira and Roswell, but not the Margaret portrayed here. Likewise her love interest, the astronomer Peter Shaw (portrayed here as the ultimate nerd by Stephen Fleming), is fictional. Henrietta (played with sensitivity by Amanda Manning) was actually wedded to her work, the tedious nature of which is obviously not what plays are made of.
What Gunderson does here is juxtapose Leavitt's family and love life with her career, in order to show us how important that career was. As the lead photo shows, Leavitt along with her colleagues Annie Jump Cannon (played by Ashleigh Pederson) and Williamina Flemming (Ashley Davidson) spent most of their time studying photographic plates of stars. (The trio are brilliant together on stage). Leavitt eventually compiled more than 2000 of a special type of variable star, known as Cepheids.
While I doubt few people in any audience follows the rationale for using Cepheid variable stars as celestial yardsticks, one line in the play that punctuates this research says it all "She was the first person to measure the Universe!" A measure of Leavitt's work is that she was going to be nominated for a Nobel Prize. But sadly, a measure of her obscurity is that she died three years earlier, no one on the Nobel committee being aware of her passing.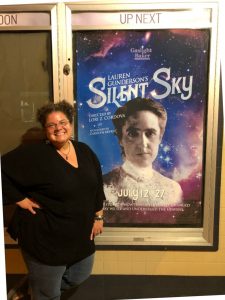 I asked director Lori Cordova about her personal interaction with Silent Sky. "When I first read this play I also read on how it was produced minimalistically. My first idea was to give it a steam punk look, but at the Gaslight Baker Theatre we recently staged Midsummer Nights' Dream which had sky floors and back wall. That certainly changed my concept.
As to the core message of the play, Cordova said "It occurred to me that our dreams are so important. I started thinking about children, especially little girls and I realised this is a fairy tale: Henrietta Leavitt did this with her life! Her life is stamped into eternity. This is an Edwardian fairy tale of the cosmos."
Even though Leavitt never achieved the status of household name, historians of astronomy have praised her work, and this heartfelt play from 2013 has raised her public profile. The trio of ladies who worked at Harvard College Observatory (Leavitt, Cannon and Flemming) have now entered the starry realm themselves as beacons of light to young women who aspire to make astronomical discoveries. Or, to put it in words used by Flemming in this play, "we are the dirt from which mighty oaks grow."
The play is ably supported by a great set by Cordova, Mary Kay Wood and Millie Wood, with set painting by Liza Collins McCarthy and Ella McCarthy.
Photo of Lori Cordova by C Cunningham
Production photos by Ursula Rogers
Upcoming shows in the season are:
Vaudeville returns for its ninth year! Enjoy a new twist on an old entertainment style. See acts from vaudeville's early days as well as its more modern incarnation – featuring talent from all over Central Texas. From Aug 9-17.
The Curious Incident of the Dog in the Nighttime: Based on the novel by Mark Haddon, fifteen-year-old Christopher has an extraordinary brain. He is exceptional at mathematics but ill-equipped to interpret everyday life. He has never ventured alone beyond the end of his road, he detests being touched, and he distrusts strangers. Now it is seven minutes after midnight, and Christopher stands beside his neighbor's dead dog, Wellington, who has been speared with a garden fork. Finding himself under suspicion, Christopher is determined to solve the mystery of who murdered Wellington, and he carefully records each fact of the crime. But his detective work, forbidden by his father, takes him on a thrilling journey that upturns his world. From Oct 11-26.
USO Tribute Show: See our performers of music, dance, comedy and magic similar to the traveling shows seen by those serving in the U.S. military. Free admission for active duty military, veterans, and Gold Star Families. Nov. 9 and 10.
The Gift of the Magi: It is Christmas in New York, but for two young lovers, Jim and Della, the prospects are bleak, as both are out of work and penniless. But their dilemma is solved when both part with their most precious possessions (she her beautiful long hair, he his heirloom pocket watch) in order to buy presents for each other thereby creating, at least for a magical moment, an aura of warmth and giving in the cold, impersonal winter city. Dec. 6-21.
Silent Sky was performed from July 12-27.
Visit their website for tickets: www.mygbt.org
Location: 216 S Main St., Lockhart (30 miles south of Austin)