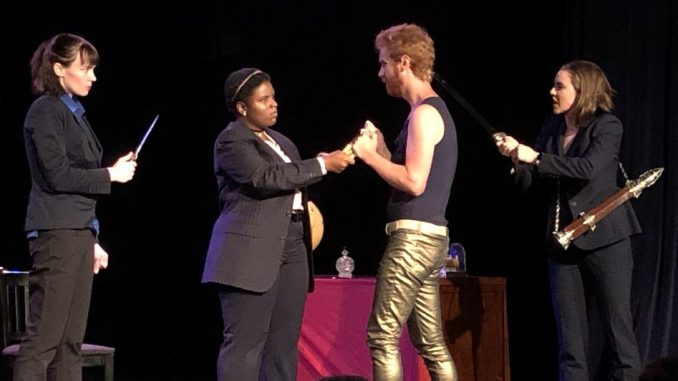 Some 2,450 years ago Sophocles wrote Oedipus the Tyrant, the first of three Theban plays that portray the story of Oedipus. A modern retelling of this play is currently being staged by the Fox Den Theatre Company in Austin.
In ancient Greece men played the role of women on stage; in this production women play most of the male roles, the exceptions being Prince Polynices (played by Jacob Schatz) and the blind seer Teiresias (John Gonzalez). The character set in this play differs quite a lot from the original: in that one Polynices does not appear at all (he is in the second of the trilogy). And the wife of Oedipus, Jocasta, only has a minor role in the original, while in this production her part is substantial. Jocasta is played by a woman, Roxanna Taylor, but the lead role of Oedipus is also played by a woman, K C Ryan. Creon the son of Oedipus (played by Susannah Crowell) follows in broad outline her role in the original play by Sophocles: at the beginning he claims no interest in ruling as King, but by the conclusion he has dramatically changed his mind.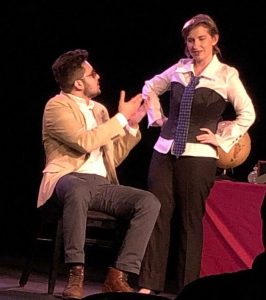 The gender switching does result in a bit of confusion for an audience member who might not be familiar with the Theban trilogy, which I studied extensively when doing my Classics degree. And since this is billed as a modern retelling, it should not be directly compared with the original either in form or content.
For example, when the blind seer delivers a powerful prophecy from the god Apollo at Delphi, Polynices (wearing gold pants in the style of Elvis) exclaims "What the fuck was that about?" Oedipus was none too happy with the seer either, especially when he said the king faced a plot to take over his crown. "Even for oracles this is a low," she admonished, flying into a rage for much of the play in trying to identify who the plotters may be, while at the same time denying such a plot could exist.
The dramatic action here is broken several times by soliloquies from the cast that typically impress upon the audience how great Thebes is. It was also thought clever to have a few 'plants' in the audience that two women often came up to during the play, apparently berating them for some unknown offense and then taking them out of the theatre. Fewer soliloquies and messing about with the audience would have made for a less distracting experience, but for those who have never before seen an ancient Greek play the fine acting in this production makes it all worthwhile.
Photo 1: Antigone (far left) wields a dagger. Eteocles (played by Gabrielle Smith) struggles with Polynices (centre), while Creon threatens Polynices with a sword.
Photo 2: Teiresias (seated) tries to reason with Oedipus
Photos by C. Cunningham
Oedipus the Tyrant is at the Dougherty Arts Center, 1110 Barton Springs Rd. through June 15, 2019.