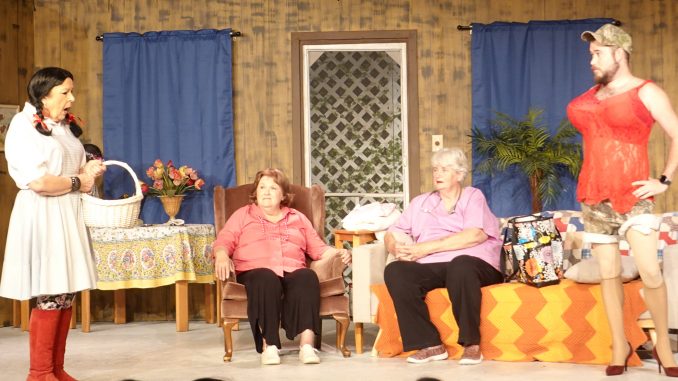 A trailer park was never so much fun. And with a Texas twist, who could resist?
The one-liners in the play Doublewide, Texas are worth savouring. "Those out of touch politicians in Austin wouldn't know reality if it bit 'em in the butt." Even those of us who live in Austin can relate to that!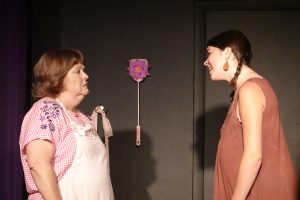 Outrageous outfits, unrepentant dialogue and a plot that evokes the spirit of Texan independence makes Doublewide a sure-fire hit at the Hill Country Community Theatre. Every seat was filled when I saw this firecracker on May 5.
This is a true ensemble cast, with each of nine actors getting some choice lines. Big Ethel (played by Helen Ward) starts things off with the line I just quoted. Another of her memorable utterances is "Tofu? Is that even legal in the state of Texas?"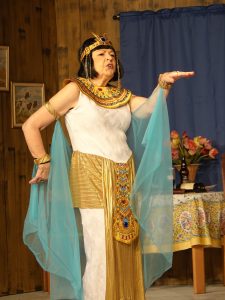 The action takes place in a trailer set just outside the small town of Tugaloo. Owner of the trailer we see is the often exasperated Georgia Dean Rudd, played by Donna Petty. She variously has to deal with a young stray woman she has taken in (Larken Barken, played by Eliana Palmer), and her Crumpler neighbours: mother Caprice (Gabriele Grasnick) and her two kids, Baby (Austin Koska) and Joveeta (Amy Masuda).
The town Lothario, Lomax, is a potential love interest of Georgia Dean, even though she has had two rotten husbands already. "Some mistakes are too much fun to make only once," she admits. Rounding out the cast is the curmudgeonly neighbour Haywood Sloggett (played by Randy L. Hilmer) and the mayor's wife Starla, played by Sheri Albertson.
Many people found the cross-dressing Baby to be their favourite character, whose bustline is hard to ignore in the lead photo with this story. How he transforms from a working guy to a beauty show contestant is merely one of the insane elements of this comedy that has people doubled over in their seats (that was a pun).
One audience member attested to the authenticity of the lifestyle and banter on display here. "My grandparents lived in a trailer park. It's very Texan and it's hysterical." This 2016 play was written by Jessie Jones, Nicholas Hope and Jamie Wooten. Grasmick has appeared in two other plays by this writing trio, so she must feel comfortable with the amazing costume changes the playwrights have assigned to her role. In the lead photo we see her as Dorothy from Wizard of Oz. The second photo shows her as Cleopatra; she also assumed the guise of Marilyn Monroe, and one of the funniest moments is when she uses a hair dryer up her white skirt to simulate the famous Monroe image. She certainly steals the show with all three appearances.
The audience has an unending array of visual and linguistic delights here. "Wouldn't it be great if mosquitoes sucked fat instead of blood?" asks George Dean. Texan comedy doesn't get any better than this. Go see it.
Doublewide, Texas ends its run on May 12, 2019.For tickets: www.theHCCT.org
Photos by C. Cunningham
Photo1: (l to r) Gabriele Grasmick dressed as Dorothy, Donna Petty, Helen Ward and Austin Koska
Photo2: Donna Petty (l) and Eliana Palmer
Photo3: Gabriele Grasmick dressed as Cleopatra