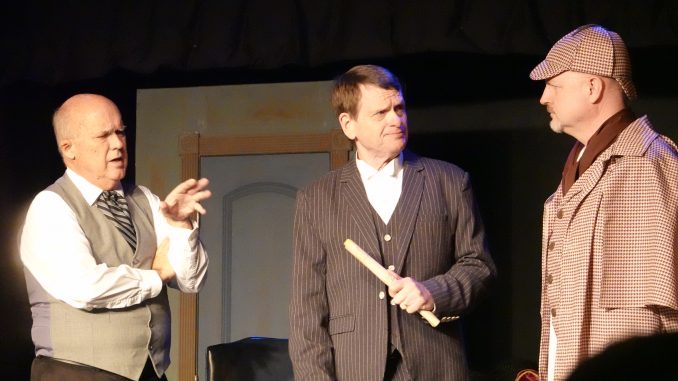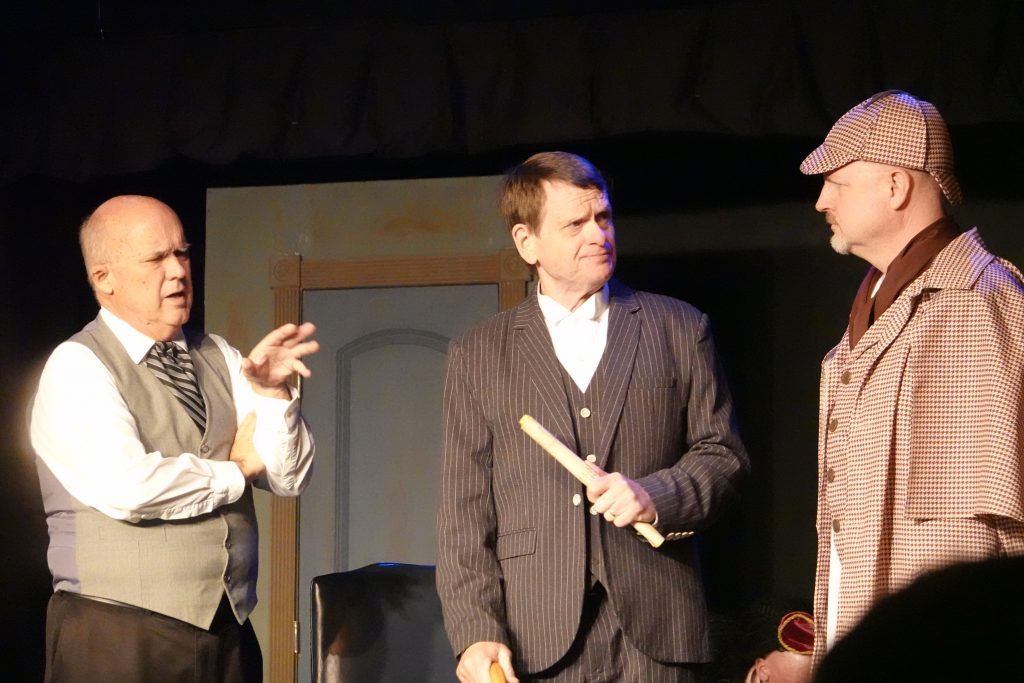 Fans of Sherlock Holmes are quite familiar with his famous case The Hound of the Baskervilles. I remember having dinner at the Sherlock Holmes pub in London, which featured (right beside my table) the well-preserved head of the famous hound.
This play by American playwright Ken Ludwig first hit the boards in 2015, and is quite popular in England, with productions in both Liverpool and London just last year. Now we can see it in Texas, as the Hill Country Community Theatre is producing it on their stage near Marble Falls.
Even though the cast of characters in this comedic version of the deadly serious adaptation of Arthur Conan Doyle's murder mystery is large, they are played by only five actors. Stan Farmer plays Holmes, Tyler Cox is Dr. Watson. All others are played by Graham Avery, Doug Hart and Bess Gershowitz.
I especially enjoyed her brief portrayal of Mrs. Hudson, the housekeeper for Holmes. When the detective receives a guest, he says to her "Tea, Mrs Hudson?" She replies that yes, it would be lovely, adopting a girlish posture of delight, only to realise after a few seconds that he is asking her to serve it!
One member of the audience told me he was "caught off guard" by the production, thinking it was a serious murder mystery. Nothing could be further from the truth, as fake moustaches fall off the actors, fake east European accents abound, and a fake bunny rabbit steals the show as it scoots along the stage. Whether or not you like fake news, which is the fuel for every unhinged world leader, you will love the fakery here.
I spoke with one person related to Farmer, who told me "he is a funny guy already, and he brings this light hearted attitude to the performance." The fact he adheres so closely to what we would expect Holmes to be is what keeps this performance on track. Despite the madcap happenings, he keeps a straight face and thus grounds the production. His sidekick Dr. Watson is also perfectly pitched by Cox, who both looks and plays the part with an amiable attitude.
The style of over-the-top physical expression of comedy is left to the other three actors, who each perform brilliantly. They go to such extremes that it makes you laugh more. One audience member I spoke to said "it is keeping me in stitches."
A delightful play that will appeal to all but the most diehard Sherlock Holmes traditionalists, I heartily recommend Baskerville.
Baskerville: A Sherlock Holmes Mystery (directed by Kay Baker) runs through March 3, 2019. For tickets visit their website: www.theHCCT.org. Their location in Cottonwood Shores is a one-hour drive from Austin.
Photo by C. Cunningham; actors from left to right are Tyler Cox, Graham Avery, Stan Farmer