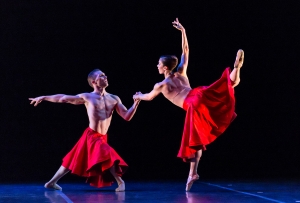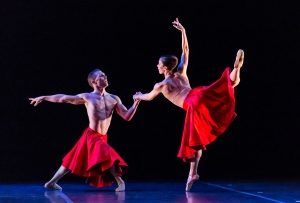 Four dances performed by Austin Ballet this weekend gave us an insight into choreographer Annabelle Lopez Ochoa. "I wanted to give a postcard of what is Annibel," she explained, speaking of herself. "I see myself as a cocktail between two cultures. In these four pieces I was able to show all the ingredients of me that went into the cocktail."
The first and longest of the four is entitled Requiem for a Rose, a flower Ochoa described "as a cliche of romance."
"I received my first bouquet of roses when I was 14," she related to an audience at the Long Centre in Austin. "My mother told me if there were 12 roses it meant love, 24 is a proposal. I got 12, but after a week the roses died. What a beautiful metaphor for love!"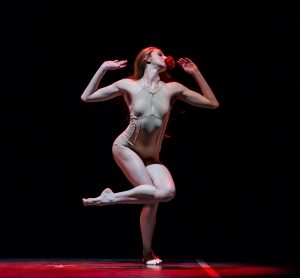 Set to the music of Schubert (Adagio from Quintet in C), Requiem has a bold costume choice: all the dancers, male and female, wear red skirts. Some in the audience felt bewildered by it. The piece features 12 dancers as a bouquet of roses, which likely influenced the choice to have each dancer in identical costume. There is also a 13th dancer devoid of elaborate costume or jewelry (depicted at right). This woman, holding a red rose in her mouth, separates the beauty of roses from their dissolution, allowing us to see the juxtaposition in one piece.
The tender-sweet music by Schubert is extraordinary, but the choreography and music did not seem to meld – the music lent itself to something more synchronised.
Ochoa said in a video that "When you create, you never create alone – you always create with the dancers, even though they think everything comes out of my head. It's their piece."
The other major work shown at the Long Centre was Sombrerisimo, an all-male number inspired by the surrealist painter Rene Magritte. Ochoa admitted Magritte' paintings make no sense, "and the music has almost nothing to do with the dance. It was used to create a breath of mystery." Throughout the performance the dancers create a series of striking figurative poses, enhanced by the repeated use of their silhouettes on the giant backscreen. I found the juxtaposition of the Hispanic guitar with the stage prop of each dancer wearing the quintessentially English bowler hat to be quirky and fun, and certainly reminiscent of a Broadway production. The dancing was superb, and the choreography exceptional.
Between these two set pieces were sandwiched two duets. A Deux has a dystopian edge emphasised by moving spotlights. There is a mathematical formula for calculating tension, but it does not incorporate temperature. Ochoa manages here to defy the laws of physics by showing us that the heat generated by the confrontation of two genders is a critical element in measuring the tension between them. I found the music accompanying Symbiotic Twin to be so repetitious that it dulled my senses to such an extent I was unable to appreciate the piece. One audience member told me the music grated on her nerves. The highlight here is the costumes, which are prints of a painting by New York City artist Kathleen Werner.
However these four pieces engage with any individual audience member, the fact Austin has a vibrant ballet scene is the mark of a major city. To support that effort, the Ballet Austin Guild is holding a fundraiser on April 28 at the Line Hotel. Adult tickets are $80. For more about upcoming Austin Ballet productions at the Long Centre, and information on attending the Guild event, visit their website: balletaustin.org
Photos by Tony Spielberg