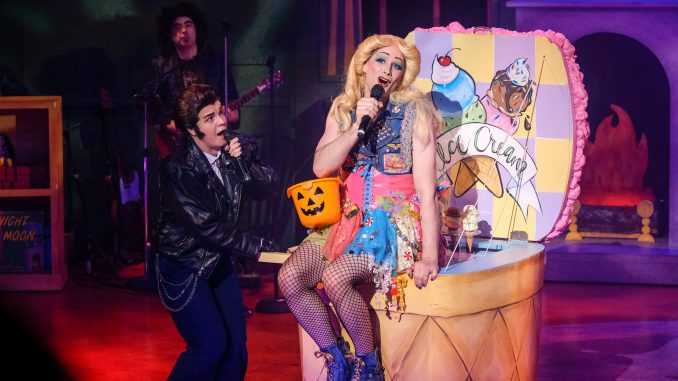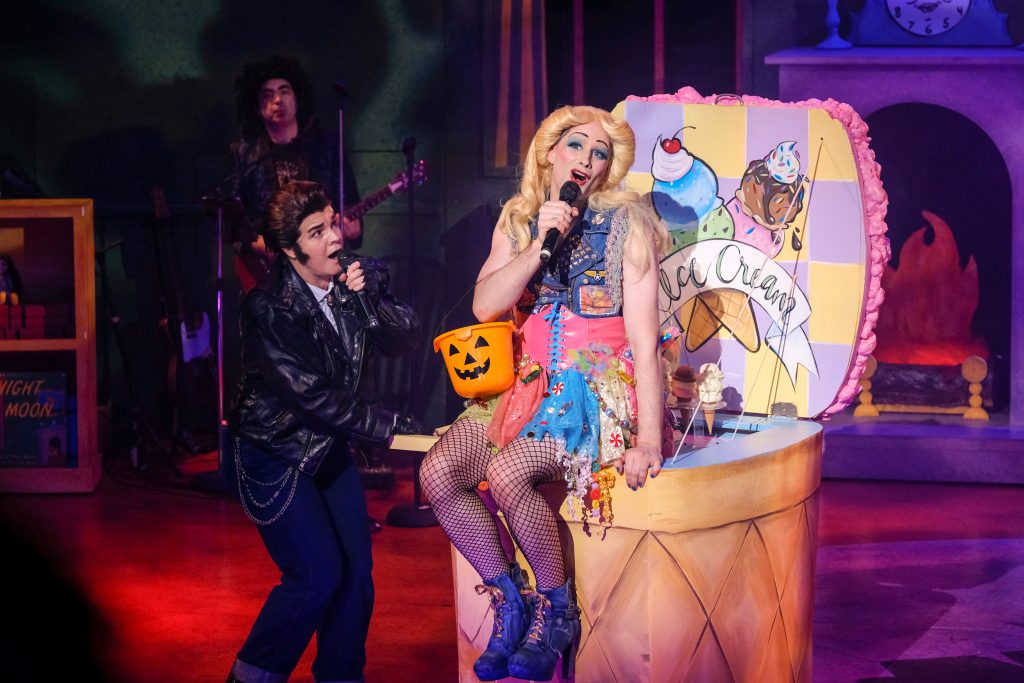 Hedwig first paraded her David Bowie-like persona on the Austin stage in 2002. That was at the smaller stage at the Zach Theatre, but this time she is packing in the crowds on the big stage.
I said 'she' but I really mean 'he,' as the star of the gender-bending musical is Daniel Rowan, who has appeared in several Fort Worth productions and two off-Broadway shows in New York City. This is the Zach debut of both Rowan and his co-star Leslie McDonel, who (dressed as a man) plays Hedwig's husband Yitzhak.
At one point in the musical Hedwig suggests someone "take a thought shower." That is certainly the best way for an audience member to approach the subject matter, which has been re-written over the years to incorporate the latest cultural shockwaves from Washington DC. This is made apparent when Hedwig prances around wearing a jacket that reads on the back "I Do Care, Why Don't U?" In case the message was too subtle, it's meaning was made obvious when she mentioned a certain "Slovenian super model," who is also referred to as something resembling a slut.
So why did Melania wear that provocative jacket in October 2018 that read "I Really Don't Care Do U?" Maybe Hedwig knows, since she came from the other side of the Berlin Wall. In any other musical a wardrobe change would have simply happened, but when Hedwig decides to ditch the jacket, she tells Yitzhak to "get this fake news bullshit off me!" This production is not for the faint of heart.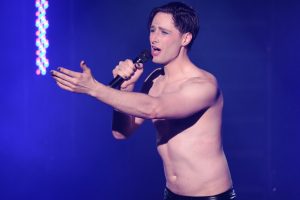 The premise of the musical sees a young East German male who underwent a botched sex-change operation become what director Dave Steakley describes as " a gender of one that is accidentally so beautiful." Rowan certainly has the male beauty to carry it off, even when he is wearing outrageous outfits. Both stars deliver stunning vocals on such songs as Sugar Daddy, Wicked Little Town, The Angry Inch, and Midnight Radio. McDonel in particular gets to shine with a rendition of Whitney Houston's I Will Always Love You, and Rowan offers us a description of The Origin of Love direct from the pen of Plato's Symposium. The invocation of "the mighty hand of Jove" in a rock glam musical is a measure of how exotic this production is.
The stars are backed up by a four piece band that ably deliver the music composed by Stephen Trask: Luke Linsteadt, Chris Tondre, Beau Moore and Harrell Williams, Jr.
A brilliant show – at times brutal in its message and at times philosophical – Hedwig is a must-see show on the Austin theatre circuit in 2019.
By the way, by all means tweet about the show, but as Rowan exhorted the audience in a parting shot, "Don't tweet like the fucking President!"
Hedwig and the Angry Inch is on at the Topfer stage at Zach until March 3, 2019. It's director, Dave Steakley, also directed the first Austin outing of Hedwig at the Zach 17 years ago.
Photos by Kirk Tuck.