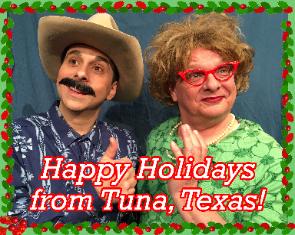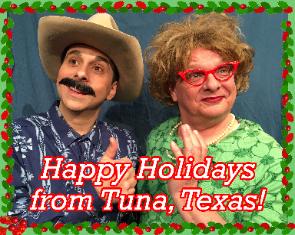 The annual Texas classic Tuna Christmas is back in Austin, courtesy of City Theatre Austin. Since its debut in 1989, this play lays bare the town of Tuna at Christmas time. A combination of slapstick comedy and down-home humour, it features a bewildering array of 22 characters all played by 2 actors.
Taking on this crazy multi-role task are Scot Friedman and Rick Smith, whose rapid wardrobe changes, often from one drag outfit into another as they play female characters, is as astonishing as it is demanding.
The action is set in Tuna, billed as the third-smallest town in Texas. For those who are new to the small-town Texas scene, a heavy dose of King of the Hill might be in order (some shows are on Netflix). That was an animated TV series that ran to 259 episodes from 1997 to 2010. It focused on a middle-class family in the small town of Arlen, Texas. Parallels can certainly be drawn between characters in Tuna Christmas and King of the Hill characters: Hank Hill, a slow-moving Texan with a big heart, his wife Peggy and son Bobby. Tuna and Arlen are similarly funny, if you get the small-town vibe.
Example from Tuna: a character did not give his wife the archery set she wanted for Christmas one year, so she moved the entire trailer they lived in across state lines. He got it back, as it is a family heirloom and a fixture in the town!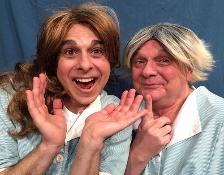 Another very small town in Texas not actually mentioned in the play is Kingston (population 140). It was the birthplace of World War II hero Audie Murphy, who appeared in 40 films from 1948-1969. Knowing this important bit of Texas history is valuable if you want to understand the Tuna line "They haven't made a good movie since Audie Murphy died." Knowing who Sal Mineo is will help too, even though he was not a Texan.
The acting is brilliant and the script is idiosyncratic. Tuna Christmas was created by Jaston Williams, Joe Sears and Ed Howard. Williams is currently playing Scrooge at the Zach Theatre, and you can read my review of that at this link: http://sunnewsaustin.com/2018/11/26/a-musical-christmas-carol/.
Whether you get all the jokes or not, this is a delightful way to prolong the Christmas spirit into the New Year. Tuna Christmas is being performed thru Jan. 5, 2019 at 901 Trinity Street, Austin. Robyn Conner is making her directorial debut at City Theatre.
The online shop for the town of Tuna includes a fridge magnet for Tuna Christmas: greatertuna.com/index.cfm
View upcoming plays at the City Theatre Austin website: citytheatreaustin.org