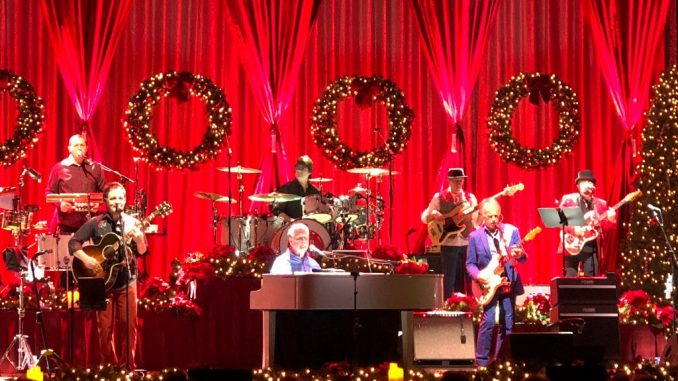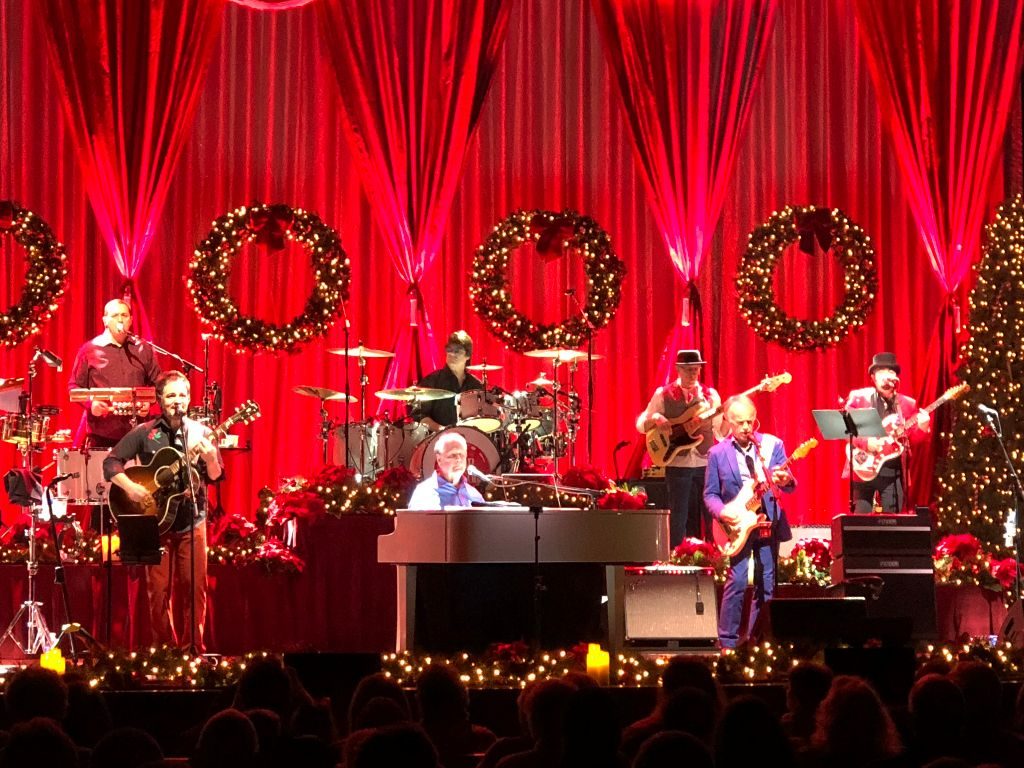 Imagine listening to one of your favourite albums from long ago. Then imagine attending a live concert by the group that created that album. Finally, imagine hearing them play the whole thing for your enjoyment.
It is a rare event, but not unique. Earlier this year I attended a Kansas concert where they played an entire album from the late 1970s. In San Antonio this week I witnessed an album from 54 years ago, which is probably a record (pun intended) that will never be beat for length of time between album and a full live performance.
The venue was the Tobin Centre and the music was from the 1964 Beach Boys Christmas album. The concert was billed as Brian Wilson: The Christmas Album, and featured both Brian and another founder of the Beach Boys, Al Jardine, whose voice is still strong and distinctive. Mike Love was absent (he is doing his own Christmas tour), and of course Brian's two brothers are both deceased, but it was still a smashing good concert. Brian and Al were joined by Blondie Chaplin, who was a member of the band in the early 1970s. Other accomplished musicians filled various instrumental and vocal roles for this special Christmas concert. Among these is Rob Bonfiglio, Wilson's son-in-law, married to daughter Carnie.
For the past two years Wilson (now 76) has been touring the full-scale Pet Sounds album from 1966. Now he is reaching back even further, doing the 1964 album along with cuts from his solo 2005 Christmas album, What I Really Want for Christmas. Supplementing all this are two songs from the rejected Beach Boys' 1977 album for Warner Bros. Jardine joked they put the songs on the shelf for a while: 40 years. We get to hear the delightful Winter Symphony and Christmas Time Is Here Again.
Wilson contributed spoken/sung vocals to fewer than half the songs in a set lasting about 75 minutes. A review of this show in Minneapolis stated that "Wilson seemed uncomfortable and unjoyful." I found his on-stage personae to be the same during the 50th anniversary tour in 2013 – it's just the way he is. Rather than decrying his lack of joie de vivre, I felt grateful to see and hear him at all. How many other performers are doing material they recorded more than half a century ago? Darn few, and we are lucky indeed to see them.
Chaplin performed Merry Christmas, Baby; O Holy Night; Blue Christmas and Run Run Rudolph, a la Chuck Berry. Highlight from the 1964 album was the longest cut, We Three Kings, done as a tone poem by the six vocalists on stage. Jazz fans get to hear Frosty the Snowman, and those who prefer pathos get their fill with I'll Be Home for Christmas, and Blue Christmas.
Of course it would not be a Beach Boys concert without some of their greatest hits. Audiences get to hear Sloop John B, God Only Knows, Help Me Rhonda, Barbara Ann, Surfin USA and Good Vibrations, which got the biggest ovation. Bringing the curtain down was White Christmas, sung by Bonfiglio, and the old Scottish song Auld Lang Syne, given a fine rendition as the entire band huddled around Wilson at the piano. A very touching way to end the show. I've seen several Christmas concerts and plays this past 3 weeks, but this was the proverbial cherry on the cake. A once-in-a-lifetime experience to be remembered.
The Christmas tour concludes this month at three cities in California, and one in Nevada. Visit the website for details: www.brianwilson.com/holiday-tour/
For upcoming shows at the Tobin Center, visit www.tobincenter.org
Photo by C Cunningham