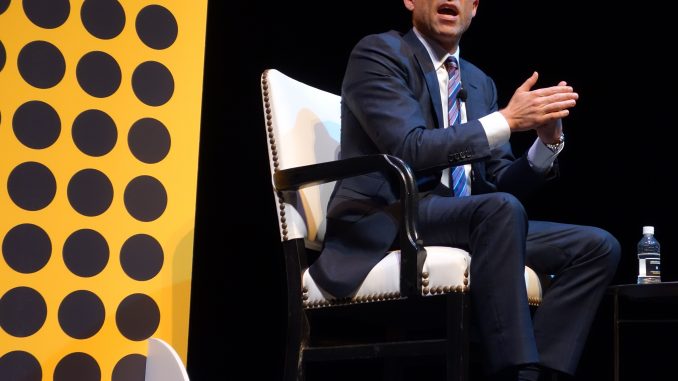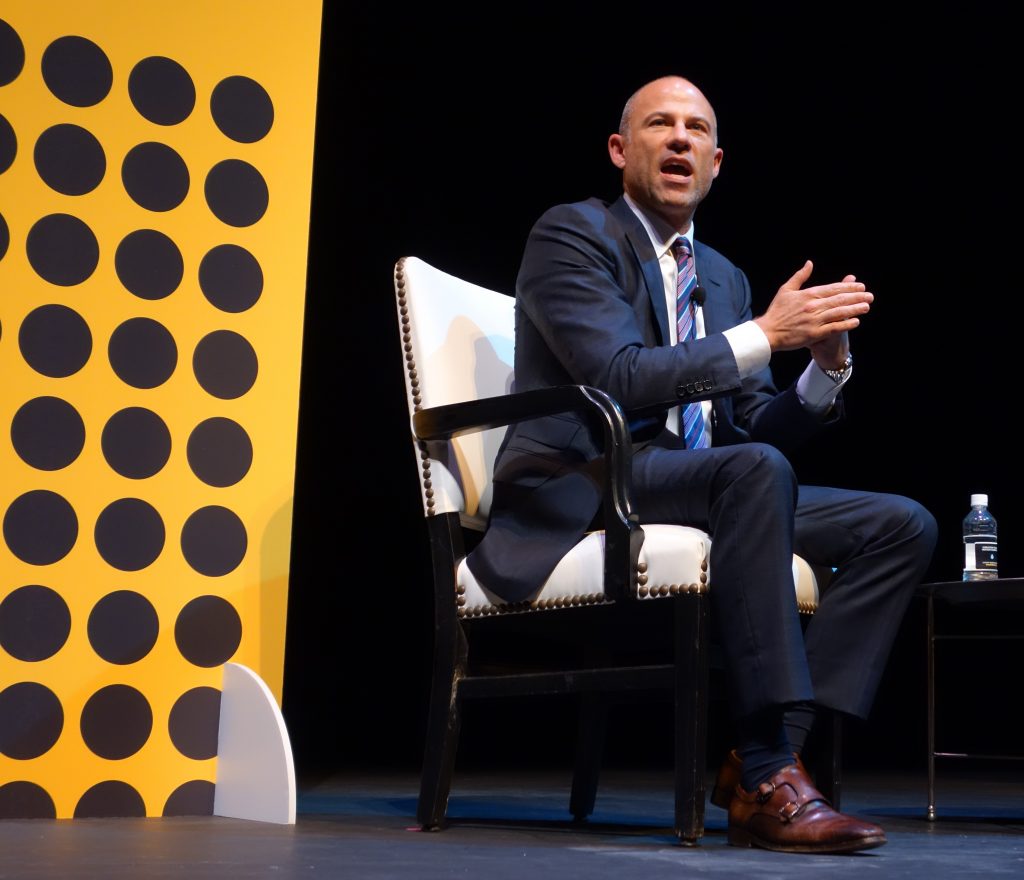 Michael Avenatti, in Austin today, denounced Supreme Court nominee Brett Kavanaugh. "Look at the Fox News interview, and you will realise he is completely full of shit!"
The outspoken lawyer of Julie Swetnick, who has levelled a series of sex assault allegations against Kavanaugh, did not hold back during his appearance at the Texas Tribune Festival today. The appearance, already expected to be electric, was supercharged as live news came into the Stateside at the Paramount just as Avenatti stepped on stage: Senator Flake announced he would not vote for the judge until after an FBI investigation was launched. The capacity audience erupted in delirious delight to this breaking news, which was supplemented minutes later by a statement from President Trump that he would allow such an investigation if the Republican-led Judiciary Committee wanted it.
It could not have been staged-managed better by Avenatti, who achieved national prominence recently as the attorney for porn star Stormy Daniels. It gave Avenatti the opportunity to rip Kavanaugh with an opening zinger: "Under his definition, I am still a virgin."
The judge did surprise him with his testimony to the Judiciary Committee yesterday (Sept. 27). "I thought he could not take as aggressive an approach as Clarence Thomas," who was accused by Anita Hill during his Supreme Court nomination hearing. Avenatti characterised Kavanaugh "as over-the-top aggressive. I was shocked at his behaviour, then the conduct of the Republicans amplified it. Senator Lindsey Graham was auditioning to be the next Attorney General. It was a sad moment for the US Senate."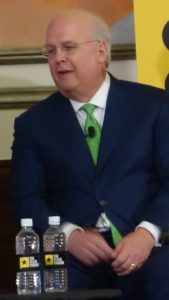 This assessment was echoed later in the day by former New Mexico Governor Bill Richardson. "Judge Kavanaugh was like a partisan hack. The country hit a new low yesterday." Republican operative Karl Rove, who engineered the successful bid of George W. Bush in his election as a Republican president, was also at the Festival today. His take on the Kavanaugh nomination is at the other end of the spectrum, but his final conclusion is remarkably similar to that of Richardson.
"No White House could prepare for this, if you have a member of the Senate who is willing to sabotage the process like Senator Feinstein did. If there is a serious question, this is referred to the FBI when the information is received, not months later. It's our country that is being trashed by this!"
Avenatti ripped the Republican party to shreds, claiming "it believes in one thing above all else: winning. They don't care about ethical norms or the future of this nation. That's pathetic." He warned that if the Democrats "don't fight fire with fire, it's only going to get worse." He is positioning himself to be in the vanguard of that fight. "I'm seriously considering" a Presidential bid, he admitted. "The stakes as it relates to our values will never be higher than in 2020," whether it is Trump or Pence who wins the Republican nomination. Avenatti does not expect Trump will resign for the good of the country as Nixon did. "I believe he would burn the Republic to the ground before resigning."
He predicts the next campaign "will be a cage match. I cringe when I hear Democrats complain about all the excuses they lost the 2016 election. Do I think I'm the only one who could beat him? No, but the Democrats need a fighter. We cannot afford gentleness any longer."
What happens in the next few days with the FBI investigation will shape America for years to come. Avenatti said his client Swetnick "has facts that suggest to her that Mark Judge and Kavanaugh participated in gang rape. This is her story and she stands by her declaration. The veracity of her statements can be assessed by the FBI. There are corroborating witnesses: let the chips fall where they may."
Photos by C. Cunningham